Help >

Frequently Asked Questions

The maximum bid is the maximum amount you are willing to bid on a lot. The system will raise your bid automatically if someone else counterbids, but only up to your maximum bid.
What is in the case of two equal bids?
The early bird catches the worm! The bid which was placed first will prevail.
Give me an example how the maximum bid works.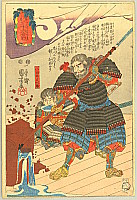 Edo Print by Kuniyoshi
copyright protected
An item has a reserve price of USD200. You are the first to post a bid on it. You select a maximum bid of USD300 on the bidding page (select the amount from the drop-down box). Now you are the current winning bidder for USD200. Your maximum bid is not displayed publicly. Someone else counterbids for the next miminum amount of USD220. The system now automatically bids for you and puts you as the winning bidder in place for USD240.
Next someone places a bid on this item for USD300. However you remain the winning bidder for USD300 as you had placed USD300 first.
Should you now get a counterbid of USD320, then you are out of course.
You can increase your maximum bid at any time, even while you are still the winning bidder. The system will raise your maximum bid and leave the current bid untouched. There is no way of counterbidding against yourself with artelino auctions.
Can I reduce my maximum bid?
No.
Can I retract a bid?
No.
How do you define the auction end?
All bids must be FINISHED before auction end. The auction is automatically shut down by the system according to the server's clock - no matter how wrong the server's clock may be. The server's local date and time is displayed on all pages. To get an update, you must click a page or the Refresh button of your browser.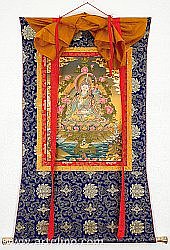 Phadmasambava
copyright artelino GmbH
Winning bidders will receive a notification after auction end by e-mail and all winning bidders are listed in the Winners List. The bidding history can be found on the page of the detailed item description.
After you received your notification, your order and invoice is online on display in your account login area on My Account. We do not delete the auction results at auction end, but the whole auction remains on display for a few more days. Bidding history and results are visible for everyone - no need for a login. We do not hide.
Please check your winner's notification very carefully for a correct shipment address and check all other information.
It is not necessary to confirm the correctness of your order. If we do not hear from you, we assume that everything is OK and we start to charge and ship.
Yes you can, but you must be fast! Send your change requests by e-mail and update your account. And please watch the following time restrictions: We start to charge one hour after auction end and we start to ship 12 hours after auction end.
You can check charging and shipping on My Account
In addition, we confirm charging and shipping by e-mail. Usually everything that was paid, is shipped within 36 hours after auction end.
No - definitely not. artelino is a virtual auction house with real consignments. Some other dealers, who sell nothing but their own stock in the form of an "auction", may do it. We do not.
What are your shipping costs?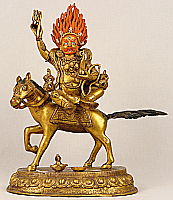 Heruka
copyright artelino GmbH
We differentiate by shipment classes depending on size and weight of a lot and we "divide" the world into different shipment zones. We charge a per per shipment fee and for most shipment classes a per item fee. The shipment fee is indicated on the page with the detailed description for an object. If you buy several items, the one with the highest shipment fee is applicable. For an overview of shipping costs for your country, please go to shipping.
Yes - The flat shipment fee includes transport insurance.
We keep your purchases from several auctions and ship on your request consolidated as one shipment. If you want to use this service, please change your Account to Consolidated Shipping = Yes.
If your shpment exceeds a certain value, we may send if for free or for reduced rates. For details, please see shipping.
If your shipment seems to be overdue, please contact us immediately by e-mail. Send your e-mail with a distinctive subject (see our recommendations for e-mails).
Check your local Postal Office if there is a registered letter or package for you. We had a few rare cases in the U.S.A. and in the U.K. when clients had not been notified, and the package was lying at the local Post Office for days and weeks.
If in our experience the shipment is overdue, we start a tracer with the German Postal Service. The German Postal Service first traces the shipment on its route to the departure point in Germany and if necessary passes it to their colleagues in the destination country. We keep you updated.
Which payment methods are accepted?
We accept credit cards by VISA, Mastercard and American Express.
We ship after having successfully charged the due amount to your credit card.
On bottom of all artelino web site pages is a small letter icon. Use preferably this icon to send us e-mails. It makes sure that you pass our spam filter automatically.
Have you received my e-mail?
Probably yes - but we may have deleted it without even having opened it.
How should my e-mail look like to make sure you read it?
If you do not use the graphic letter symbol on bottom of our web site pages, then please put the word artelino or another significant subject like for instance "print number 6883" or "Japanese print consignment" or "Current e-hon auction".
E-Mails with no subjects or subjects like "hello", "business proposal" or "question" or all CAPITAL letters are typical spam-mails. We delete them without opening them.
Where do I find more information?