Results 1-10 out of 285 hits
aiban

Aiban is a Japanese print size of about 9 by 13 inches (22,5 by 34,5 cm).
aikuchi
A dagger or short sword.
aizuri-e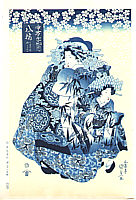 Aizuri-e are Japanese prints which were printed only in shades of blue. They were popular in 1830-40s and in the early 20th century.
Akechi Mitsuhide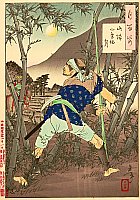 Akechi Mitsuhide (1526-1582) was a general of the tyran Oda Nobunaga. After Nobunaga had reprimanded and publicly ridiculed him, Akechi Misuhide revolted against his lord. He succeeded and Nobunaga was forced to commit suicide. But another loyal general, Toyotomi Hideyoshi, came to revenge the death of Nobunaga and defeated the army of Akechi Mitsuhide at Uchidehama. When Akechi Mitsuhide fled from the battle field, he fell into the hands of riotous farmers and was slain. A famous print by Yoshitoshi Tsukioka shows the moment when Mitsuhide arrives on his horse and a farmer armed with a spear is awaiting him behind bamboo bushes.
aoi
Aoi is a shape used for Japanese tsuba (sword guard) resembling the leaves of the mallow.
aquatint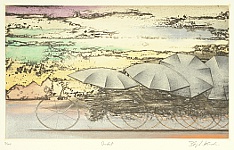 Aquatint is a special form of etching which is created by etching areas of tone rather than lines.
Arashiyama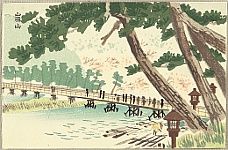 Arashiyama is a beautiful scenic area near Kyoto with a mountain of the same name, a few temples and a river that is spanned by an old wooden bridge, the Togetsu. Arashiyama is also famous for its cherry blossom season.
aratame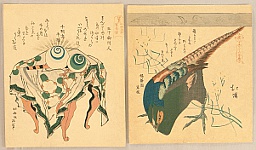 Japanese for "examined" - to be found on Japanese prints of the 19th century as censorship seals.
arita
Porcelain from the region of Arita, where kaolin, the source material for porcelain, was found in the early 17th century.
artist proof (A.P.)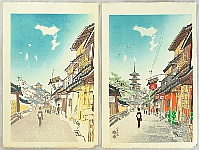 Usually an artist receives/keeps 10-15% out of an edition for his own use. These impressions are called artist's proofs (AP, A.P., épreuve d'artiste) and are in addition to the numbered edition.