Auction Catalog:
Japanese Prints - 994
Archive
Yoshitoshi Tsukioka (Taiso) 1839-1892 - Yoshitoshi Selection of One Hundred Warriors - Prince Ot-no-miya
Enlarge Image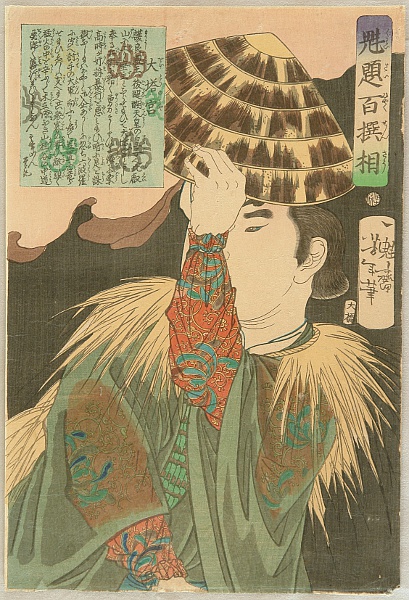 Yoshitoshi Selection of One Hundred Warriors - Prince Ot-no-miya
by Yoshitoshi Tsukioka (Taiso) 1839-1892
Yoshitoshi Tsukioka (Taiso), 1839-1892
The Odd Meiji Genius
Yoshitoshi is considered to be one of the greatest artists of the Meiji era. He started his career as a pupil of Kuniyoshi. Yoshitoshi produced a number of famous print series during his lifetime - the most famous ones being the '100 Aspects of the Moon', series about beautiful women and his ghost series. Until his early fourties, the artist's life was a struggle for financial survival. Only in his late years he found public recognition and commercial success. Yoshitoshi suffered from depression and mental illness and died at the age of 53 from a cerebral hermorrhage.
Biography Yoshitoshi Taiso | Bloody Yoshitoshi Prints
Item #
Bidder
Bid in USD
Winning Bid?
Date
Time
No bids placed on item # 60427.

AUCTION WATCH is not available for event JAPANESE PRINTS AND KUCHI-E - 1182.
Item

60427
| | |
| --- | --- |
| Reserve | $280 = €213 |
| Buyer's Commission | 20.00% on top of the hammered price |
| VAT | For residents of the European Union 19% VAT (Value Added Tax - TVA, BTW, IVA, MWST) will be added on top of the total invoice. |
| | |
Title
Yoshitoshi Selection of One Hundred Warriors - Prince Ot-no-miya
Kaidai Hyakusen So
Artist

Yoshitoshi Tsukioka (Taiso) 1839-1892

Description
"Kaidai Hyaku-sen So" (Yoshitoshi's Selection of One Hundred Warriors) Disturbing images of military leaders and warriors in the 16th-19th Century. They were actually inspired by Yoshitoshi's impressions of the bloody battles at Ueno in 1868.
Oto-no-miya or prince Morinaga (1308 - 35), son of emperor Godaigo (1288 - 1339) .
Signature
Ikkaisai Yoshitoshi.
Dated
1868.
Publisher
Ohashi (Daikyodo).
Medium/Technique
Woodblock print.
Impression
Very good.
Colors
Good ... Shomen-zuri patterns on the kimono.
Condition
Good ... Creased. Light wear. Small missing areas and repaired areas. Lower right edge partially missing. Two missing areas on the bottom edge.
Format
Oban tate-e
Width Item
9.6 inches = 24.4 cm
Height Item
14.2 inches = 36.0 cm
Literature
van den Ing, Eric; Robert Schaap, "Beauty & Violence: Japanese Prints by Yoshitoshi 1839-1892", Bergeyk: Society for Japanese Arts, 1992, ISBN 90-70216-04-3, - pg.108-10, this series described
| | | | | | |
| --- | --- | --- | --- | --- | --- |
| Class | Which Items? | Dispatch Mode | How Long? | Hold Option? | Per Shipment |
| XS | Small and medium-sized prints (90% of all Japanese prints).. | Registered letter by air. | 5-15 days | yes | $24 |
The shipment fee includes everything - transport, insurance and packaging. If you order several items, the highest shipment class is applicable.
We ship for free to U.S.A. if a minimum value (hammered prices without commission and without VAT) of $1,000 is met (including orders on hold).
On your request we hold your purchases from several auctions up to 6 months and ship consolidated for one shipment fee. If you want to use this service, please change your account option to Consolidated Shipping = Yes.