Auction Catalog:
Japanese Prints -996
Archive
Shiro Kasamatsu 1898-1992 - Tokyo Tower
Enlarge Image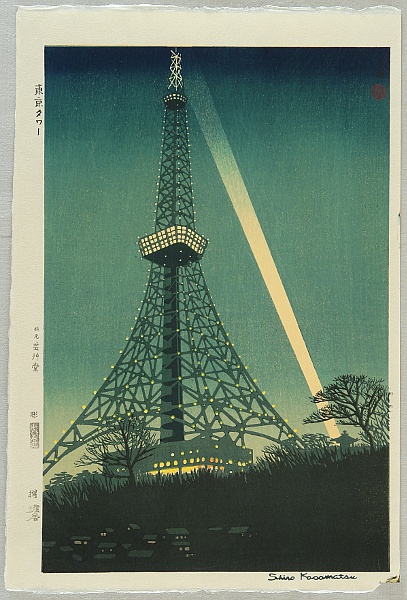 Tokyo Tower
by Shiro Kasamatsu 1898-1992
Shiro Kasamatsu, 1898-1992
Shin Hanga and Sosaku Hanga
Shiro Kasamatsu was a student of Kaburagi Kiyokata. He started creating woodblock prints for the publisher Watanabe in 1919. Until the late 1940s he had designed more than 50 prints for Watanabe. In the 1950s he published bird and animal prints, landscapes and "famous views" with the publisher Unsodo - alltogether more than 100. Shiro Kasamatsu worked in Shin Hanga and Sosaku Hanga style.
Biography Shiro Kasamatsu | Shin Hanga Movement | Complete Woodblock Prints by Shiro Kasamatsu
Item #
Bidder
Bid in USD
Winning Bid?
Date
Time
No bids placed on item # 60029.

AUCTION WATCH is not available for event JAPANESE PRINTS AND KUCHI-E - 1182.
Item

60029
| | |
| --- | --- |
| Reserve | $120 = €92 |
| Buyer's Commission | 20.00% on top of the hammered price |
| VAT | For residents of the European Union 19% VAT (Value Added Tax - TVA, BTW, IVA, MWST) will be added on top of the total invoice. |
| | |
Title
Tokyo Tower
Artist

Shiro Kasamatsu 1898-1992

Description
"Tokyo Tower". A night scene with the illuminated Tokyo Tower.
The Tokyo tower was opened in 1958. It was a symbol of Japan's economic resurgence after world II. The steel tower was made after the design of the Eiffel Tower. Although the Tokyo tower is taller than the Eiffel Tower, it weighs less. The tower was designed to withstand a major earthquake of double the intensity of the great Kanto earthquake of 1923.
At the time when Shiro Kasamatsu created this design he was no longer working for the publisher Watanabe but for Unsodo in Kyoto.
Signature
"Shiro" on the plate and "Shiro Kasamatsu" printed on the lower margin.
Seal
Artist's seal.
Publisher
Unsodo.
Medium/Technique
Woodblock print.
Impression
Very good ... "Atozuri" - later printing. Printed on a "Un" watermarked Japanese paper.
Colors
Excellent.
Condition
Excellent - very good ... Ink residues on the right margin. A cut mark on the right bottom corner.
Note
Carver Ohkura, printer Yoneda.
Format
Oban tate-e
Width Item
11.0 inches = 28.0 cm
Height Item
16.1 inches = 41.0 cm
Literature
Grund, Andreas, "Shiro Kasamatsu - The Complete Woodblock Prints", Tokyo, privately published, 2001, - U-101
| | | | | | |
| --- | --- | --- | --- | --- | --- |
| Class | Which Items? | Dispatch Mode | How Long? | Hold Option? | Per Shipment |
| XS | Small and medium-sized prints (90% of all Japanese prints).. | Registered letter by air. | 5-15 days | yes | $24 |
The shipment fee includes everything - transport, insurance and packaging. If you order several items, the highest shipment class is applicable.
We ship for free to U.S.A. if a minimum value (hammered prices without commission and without VAT) of $1,000 is met (including orders on hold).
On your request we hold your purchases from several auctions up to 6 months and ship consolidated for one shipment fee. If you want to use this service, please change your account option to Consolidated Shipping = Yes.