Forum > Sun Jiao - born 1956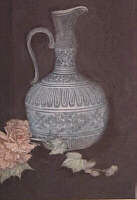 The Perfume of Blue Flowers 4, 1996
copyright Sun Jiao
Sun Jiao is a female printmaker. Her etchings of flower subjects in small editions are among the finest of modern Chinese prints.
The artist likes to choose flowers in elaborate vases as her main subject. For most of her prints she uses rather dark but tender colors. You can feel the feminine charm. Sun Jiao's technique is superb and the result are close to photorealistic images - poetic and charming!
Sun Jiao was born in 1956. She graduated from the Department of Graphic Arts, Central Academy of Fine Arts in Beijing. Numerous of her artworks have won national prizes and were collected by provincial art museums.
Resume
1956 - Born in HeiLongJiang province, China.
1979 - Graduated from Fine Art Department, JiXi Normal School.
1990 - "Miner's Lamp", Execellent Work Prize in the Provincial Exhibition.
1991 - "The Gentle Evening Breeze", Silver Prize in the 2nd National Print Fair, collected by Chinese Art Gallery and Coal Museum, China.
1995 - "Miner", Bronze Prize in the 3rd National Print Exhibition.
1996 - Series"Blue Flowers 1", Excellent Work Prize in the HeiLongJiang 6th Print Exhibition.
1997 - Series"Blue Flower 1", collected by Kiangsu Art Gallery.
1998 - Release of the series"Blue Flower 3" on the China Prints Periodical.
1999 - "Buds", Excellent Work Prize in the 9th Fine Art Exibition.
Media
Sun Jiao uses the Western etching technique.
Editions
So far her editions are very small. Limited editions from 10 to 20 copies - signed, dated and numbered by the artist in pencil.
The images on this web site are the property of the artist(s) and or the artelino GmbH and/or a third company or institution. Reproduction, public display and any commercial use of these images, in whole or in part, require the expressed written consent of the artist(s) and/or the artelino GmbH.