Edutainment >

Printmaker Zhu Rui in his Studio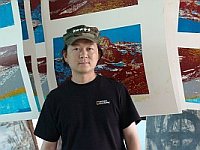 Mr. Zhu Rui
copyright Zhu Rui
Mr. Zhu Rui, born in 1970 in Simao city, is a young printmaker of the second generation of what is today called the Yunnan Art School. The images on this page show Mr. Zhu Rui at work in his studio creating two new art prints. The snap shots give an insight into the specific Chinese way of producing woodblock prints, which is similar but also different from the techniques used by Japanese artists.
Mr. Zhu Rui's career is quite remarkable. After graduating from the Art Department of Yuxi Normal School of Yunnan province he was admitted to the CNAFA (Chinese National Academy of Fine Arts). Currently he works at Qujing Art Institute in Yunnan. He has exhibited widely inside and outside of China. His print works are in the collections of several Chinese art museums.
Preparing Inks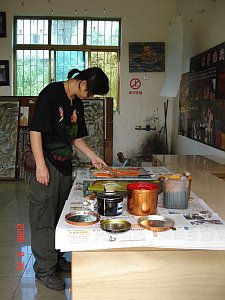 Preparing the Inks
copyright Zhu Rui
The artist is preparing the inks for the printing proces.
Applying Inks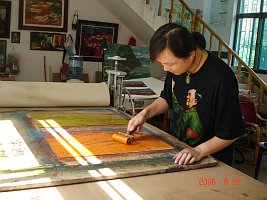 Applying Inks
copyright Zhu Rui
Two blocks of two different designs are coated with inks.
Woodblock Printmaking by Zhu Rui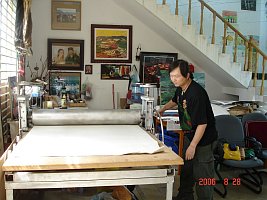 copyright Zhu Rui
At the end of the table you can see a large tube. It is originally for an etching press and not part of the woodblock printmaking process. But the artist uses it to press the paper. Working conditions for Chinese artists are often limited.But Chinese artists are creative.
For a detailed description of the techniques please see an article written by German printmaker Eva Pietzcker about Chinese woodblock prints.
Two Designs on one Sheet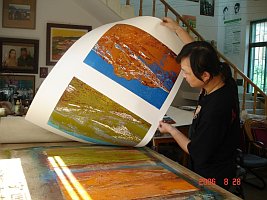 copyright Zhu Rui
Zhu Rui has printed simultaneously from two different woodblocks on one large sheet. The two blocks are two different designs. Both designs show mountain landscapes - the favorite subjects of Zhu Rui.
Drying the Print Sheets
Drying the Sheets
copyright Zhu Rui
Mr. Zhu Rui hangs the print sheets for drying on a simple but effective concoction.
Preparations for the Next Printing Step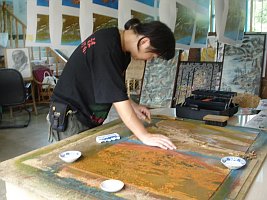 copyright Zhu Rui
Art works by Zhu Rui are in the Shenzhou Print Museum of Sichuan province, the Guangdong Art Museum and the Yunnan Art Museum. You find the artist's resumé and biography on Zhu Rui - biography.
Author: Dieter Wanczura
(October 2006, updated April 2009)
The images on this web site are the property of the artist(s) and or the artelino GmbH and/or a third company or institution. Reproduction, public display and any commercial use of these images, in whole or in part, require the expressed written consent of the artist(s) and/or the artelino GmbH.