Edutainment >

Zhang Yongqing born 1958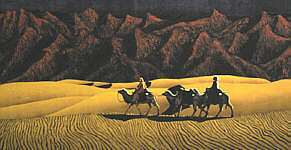 copyright Zhang Yongqing
Zhang Yongqing does not belong to any of the "art schools" in China. Born in Handan in China, he lives and works in the Northwestern frontier region of China. His art works of unusual landscapes are among the favorites of our clients.
The Lonely Rider
The artist was born in Handan, China. He has worked as a geologist. We have no information from China that he quit the geologist job in the meantime. Zhang Yongqing is a successful, contemporary Chinese printmaker. Looking at his print creations and his activities in exhibitions and publications, he must be pretty busy with his art job.
But we should rather speak of vocations than of jobs and professions. And for Zhang Yongqing, both - printmaking and geology - seem to be a vocation, a strong passion.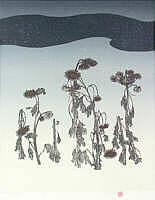 copyright Zhang Yongqing
The artist's best designs are the depictions of unusual landscapes - scenes of deserts, mountains, mysterious, forgotten cities buried under the sand, camels in front of a glacier. Quite honestly, we at artelino first assumed Zhang's art to be at home in the fantasy genre. Until we took a map and a book about China into our hands. These scenes are real - even the camels in front of a glacier. It is maybe the mature mastership of Zhang Yongqing that makes you believe they might be not.
Zhang Yongqing is a professional under all aspects. He has mastered a number of Western printmaking techniques. And as some contemporary and mature artists in the West and in Japan frequently do, he combined several of these techniques to his own mixed media style. Zhang uses etching, lithograph and serigraph in one print.
Zhang Yongqing does not belong to any of the major art movements in China. He does not need the guidance of others. He is the loner who finds his own way, under any conditions and in even in extreme terrain - just like the lonely camel rider in the desert on one of his best designs.
Affiliations
Member of Chinese Artist Association
Director of Chinese Printmakers Association
Vice president of print seminar of Hebei province
Painter of Hebei Province Painting Academy
Professor of Art Department of Chinese Environment Academy
Art Prints and Awards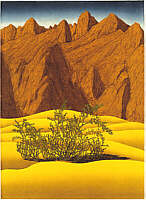 copyright Zhang Yongqing
Below is a list of awards and prizes that the artist's prints have won. We mention the information as we had received it from our Chinese partner. Presently we have no further details like the year of the award. Nor are we always aware of the exact meaning and positioning of the organizations involved. Our process of understanding the contemporary Chinese art scene is still in an early stage. And as the Chinese organizations and institutions do not have unified names in English, each translation may result in minor variations and in different writings.
Some of the awarded print designs have been offered in past artelino auctions and may still be available in coming auctions.
"Winter" won the bronze prize of the 11th National Print Exposition of China
"Warm Breeze and Autumn Sun" won the classical prize of the International Biennial Print Exposition in Beijing
"The Feeling of Northern Border" was honored as excellent print in China's National Art Exposition
"Autumn Sun 2" won the Golden Color Prize awarded by Chinese Art Association
"Bell of Camel Team" was honored as excellent print by the central propagandistic department
The series "Exploiter" was honored as excellent print by the Chinese Culture Association
"Echo" was accepted for the 10th National Print Exposition
"Oasis 2" was accepted for the 12th National Print Exposition
"Loulan City" was accepted for the 13th National Print Exposition
"Life" was chosen to be shown in the National Print Medias Exposition
"Mother's Flower" was chosen to be shown in the Chinese Art Exposition
"Clear Breeze" was chosen for the National Print Exposition for Young Artists
"Snow Night" was chosen for the exposition of "100 Years of Chinese Print"
"Lotus's Chant" was chosen for the 16th National Print Exposition
"Faint Fragrance in the Corridor" was chosen for the Chinese Print Exposition
Collections
copyright Zhang Yongqing
Art works of Zhang Yongqing have been collected by a number of museums in China and in Japan.
Kanagawa Art Museum in Japan
Shenzhen Art Museum
Art Museum of Jiangsu province
Painting Academy of Hebei province
Chinese Print Museum
Art Museum of Qingdao
Art Museum of Canton
Art Museum of Anhui province
Taihe International Art Collection
Chinese Art Association
Chinese Geologic Museum
International Expositions and Press Reviews
Zhang Yongqing print works have been shown in personal expositions in Taipei, Shanghai, and Chicago. More than 20 of his prints have been chosen in international print exposition in Kanagawa Japan, Spain, Macedonia and Egypt.
Prints by Yongqing were published in a series of magazines and newspapers.
Art
Print Art
Chinese Prints
The World of Prints
Chinese and Japanese Artwork Collection
International Artwork Collection
Art Works of Chinese Artists
Collection of Chinese Prints
Collection of Chinese Prints in 100 Year's
Worker's Newspaper
Chinese Youth Newspaper
Publications by Zhang Yongqing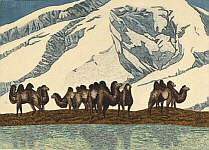 copyright Zhang Yongqing
The artist has made a series of publications about his own print works and about printmaking.
Prints of Zhang Yongqing
Chinese Geologic Artist
Ideas of Creation
River Novel
LE TANG village
Zhang Yongqing wrote a dissertation titled "Discussion of the Appearance of Chinese Art"
The images on this web site are the property of the artist(s) and or the artelino GmbH and/or a third company or institution. Reproduction, public display and any commercial use of these images, in whole or in part, require the expressed written consent of the artist(s) and/or the artelino GmbH.