Edutainment >

Yukio Fukazawa - born 1924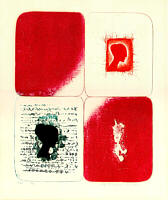 copyright Yukio Fukazawa
Yukio Fukazawa is a well-known contemporary Japanese artist and the head of Japan Print Association (JPA). His medium is not the traditional woodblock, but copperplates.
Graduate of Tokyo Art College
Yukio was born in Yamanashi Prefecture. During World War II he was injured in an air attack by US bombers on Tokyo. He kept a life-long disability in walking from this injury.
In 1948 Fukazawa graduated from the Tokyo Art College. He studied the technique of copper engraving, partly self-taught and partly at the art college. It should remain his favorite medium.
An International Career
In the 50s and 60s the young contemporary Japanese artist gained the attention of the Japanese art community and later in the 70s of an International audience.
1957 - Prize from Japan Print Association
1958 - Prize from Shunyo-kai Society
1959 - 3rd Prize from Shell art contest
1960 - Price from the Modern Art Museum of Kanagawa Prefecture
1962 - First Price from an Exhibition of Modern Japanese Art
1972 - Price from the Crakow International Print Biennale
In 1963 Fukazawa was invited by the Mexican government to teach copper engraving. During his stay in Mexico he was captured by the ancient civilizations of the Aztec and Maya indios. Under this influence the artist's print style became more colorful.
Poetry Engraved in Copper Plates
Yukio Fukazawa prints are characterized by his thrive to express inner feelings and thoughts. Art critics used the expression lyrical prints to describe the works of this great contemporary Japanese artist.
Great Yukio Fukazawa Retrospective
In 1991 the Yamanichi Prefectural Museum of Art had a great retrospective showing 200 works by the artist. Today the copper engravings of Yukio Fukazawa are exhibited in major museum collections. The New York Modern Art Museum and the Tokyo National Museum of Modern Art are only two of them.
The images on this web site are the property of the artist(s) and or the artelino GmbH and/or a third company or institution. Reproduction, public display and any commercial use of these images, in whole or in part, require the expressed written consent of the artist(s) and/or the artelino GmbH.