Edutainment >

Yang Dehua - 1940-2002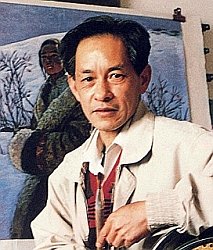 copyright Yang Dehua's widow
The following article 'A Pilgrim of Arts? - Thinking of Mr. Yang Dehua' was written by Chinese painter and printmaker Yang Yongsheng and was published in the Chinese magazine 'Circles of Fine Arts, 4th edition 2003, ISBN1002-7416'. The article is an obituary for a great painter and printmaker and an exceptional personality that influenced many of today's leading Chinese painters and printmakers, including the author, Mr. Yang Yongsheng. Mr. Yang Dehua was Yang Yongsheng's art teacher and later a close friend.
Copyright for this text is held by Mr. Yang Yongsheng, copyright for the images is held by Mr. Yang Dehua's widow. Any publication without the prior approval of the copyright holders is prohibited.
A Pilgrim of Arts? Thinking of Mr. Yang Dehua
Soon after the Fine Arts Works Exhibition of Qujing Painting Academy had completed in August, a grievous news came in the morning of October 3, 2002: Mr. Yang Dehua had passed away at six o'clock in the morning at his home.
The news was so unexpected that it took my breath away from shock. He was a successful artist of 62 years, dedicated whole-heartedly to arts and in his full bloom. He was matured in arts. Many things are now waiting to be done. Beyond all expectations, he left this world in haste without leaving a last testament.
I still remember how Mr. Yang and Mr. Lu Runeng came to attend the opening ceremony of the painting exhibition at the beginning of August. At that time, his physical condition was good except for his edema on his face for using hormones shortly after having left the hospital. As several young painters asked Mr. Yang to evaluate their works, I had no opportunity to talk with him. At present, his voice and his ardent expectations for young artists are still vivid as if he was standing in front of us.
Born in Kunming, Yunnan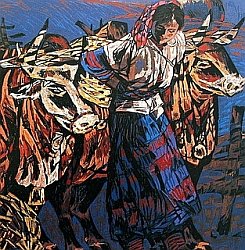 copyright Yang Dehua's widow
Mr. Yang Dehua was born in Kunming, Yunnan in 1941. He had studied at the Affiliated School and Oil Painting Department of Sichuang Fine Arts College for eight years and was assigned to Qujing in 1965.
When I started to study painting, I saw and read about his various works in gallery exhibitions and in newspapers and magazines. At that time working conditions were very poor. It was hard to find any art books, let alone see the originals. Hence, Mr. Yang's realistic painting performance trained by strict academism impressed me deeply. Until I graduated and was assigned to Qujing Painting Academy in 1991, I had not met him before. But at Quijing Painting Academy I became the fellow worker of Mr. Yang.
Quijing Painting Academy
The print works of Qujing artists have received many prizes in domestic exhibitions. The Academy stands out conspicuously in China, and created an independent school in Yunnan's fine arts circle in the field of collective realism.
As a senior painter of the Qujing fine arts group, Mr. Yang in the prime of life was vigorous and enthusiastic and busy in observing real life, producing art works and holding exhibitions. His topic of conversation was always focused on painting even at random gatherings. At the beginning of my stay at Qujing Academy, I did not dare to be on a casual level with the seniors out of reverence and respect for them. During the working periods, all painters remained closed in their studios until the moment when they showed their works to each other for mutual appreciation. Sometimes when I went to my studio at night, and saw the light in Mr. Yang's studio still turned on.
Studio Visits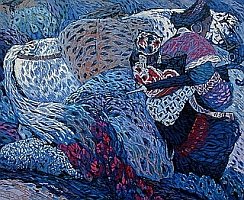 copyright Yang Dehua's widow
One day he visited my studio and reviewed my works. Mr. Yang said to me:
"You have many brisk thoughts."
Then he invited me to his studio to appreciate his latest engraving works which absorbed the shape and colors of oil paintings. I said:
"Why do you devote yourself to printmaking although your main focus is on oil painting?"
And Mr. Yang replied:
"The visual arts are connected with each other. I believe that I can make prints well on the basis of oil paintings. Besides, I have acquired relevant knowledge at college. In the remote frontier, I found that the focus of oil paintings was not convenient to communicate. Hence I chose printmaking. Maybe I might choose drawing in the future."
At that time, his engraving work "Mountain Breeze" had received the bronze prize in the 10th National Prints Exhibition of China. The creative method of learning widely from other strong points helped to form his own art style. He followed no set form and enriched the traditional language of printmaking.
From Teacher to Friend
Lately, his works "The Wedding Feast" and "The Sun Going Down the Mountain Slope" successively acquired prizes in domestic exhibitions, which also confirmed his method of creation. I remember when he said:
"You are so fortunate to have the opportunity to produce in good times under liberal and comfortable conditions. You should cherish this. During our twenty years of youth we wasted so much valuable time with that ultra-left political situation. Your achievements will exceed ours."
His warm solicitude is still vivid in my memory. The academy provides a warm and comfortable environment to fully express views and inspire each other - even if a sincere attitude towards arts sometimes leads to heated discussions. Once, Mr. Yang said:
"We also can draw enlightenment from the works of you younger ones. Some of our habits are ossified. For instance, we are used to draw every detail in a painting. Hence we tend to lose the meaningful and thought-provoking content. You young painters, however, put much effort into reflection by putting the emphasis on experience and atmosphere."
I appreciated his encouragement for us younger ones very much.
In the following years, he was not merely my teacher and colleague, but had become a friend. We got along well with each other and together we visited Washan, Tibet and Qinghai to learn customary practices and we held painting exhibitions in Beijing. Mr. Yang was known for his infatuation with arts, and he insisted even when he was sick and in bed.
During the period of hospitalization, he expressed that he wanted to produce works after his retirement. But he fell ill at that time, and idled away his time while he was hospitalized. We were worried about Mr. Yang's condition. Soon after having left the hospital, Mr. Yang participated in collective activities of Yunnan painters to learn customary practice in the Stone Forest. Only two days before his death, he bought a camera tripod meant to gather material for art works.
Go West Young Man!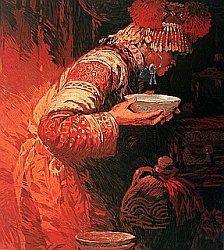 copyright Yang Dehua's widow
Mr. Yang, belonged to a generation that accepted the creative philosophy of socialist realism that believed that life is the only source of arts creation. Throughout his lifetime, Mr. Yang observed the West of China and exposed his praise and love in all his work for the culture and nature of Western China.
After graduating from college, he applied for an assignment to Tibet. Then the organization assigned him to Yunnan which needed art talents. Mr. Yang dedicated his life to promoting the arts in Qujing. His footprint covered western China with Yunnan, Sichuan, Guizhou, Tibet, Qinghai, Gansu and Xinjiang. Incessantly he drew inspirations from the culture in western China.
Discovering Tibet
During the period when I was working with him. Mr. Yang always insisted on learning local customs in other places for a certain period twice each year. He could not bear staying at the academy for a long time and urged colleagues to travel somewhere. In 1993, a group of eight painters from the Qujing Academy visited Tibet, Xijiang and Qinghai to gather experience with these regions for more than three months.
During the exploration tour, Mr. Yang in his fifties was so vigorous and exited as a child when sightseeing magnificent natural scenes and colorful human customs on the pass of Mt. Tanggula, 5,000 meters above sea level and at Aiting Lake, 57 meters below sea level.
From then on, Mr. Yang's painting subjects were aimed at Tibetan culture for nearly ten years. In the past, Mr. Yang had an understanding more of the local conditions and customs of Yunnan. He was especially impressed by the female beauty of the Dai people. The beauty of masculism in Tibet, however, touched him. Mr. Yang said the human being is so great to adapt himself to the environment and to create beauty anywhere, no matter if rich or poor. In brief, the harmony between humans and nature is his permanent theme.
A Journey to Tibet with Mr. Yang
In 1997, Mr. Yang Dehua, Mr. Lu Runeng and I visited Qinghai crossing the Tibetan region of Sichuan by regular bus for more than one month. As passionate as a child, Mr. Yang, then nearly sixty years old with jeans, bag pack and sun glasses was very excited when seeing vast areas of grassland and rolling hills, herds of yaks and Tibetan people with colorful garments.
When we crowded with Tibetan people and sang Tibetan songs in the bus, Mr. Yang found innocent pleasure in scattering Longda (Tibetan esotericism flags) and chanting Tibetan incantations. As his spirit returned to his hometown, Mr. Yang took his camera to take the opportunity for a photograph of every detail like yaks in grassland and Tibetan villages. When he was feeling hungry he ate solid food, and had a rest in a Tibetan home to recover himself.
Advise from Tibetan Grandma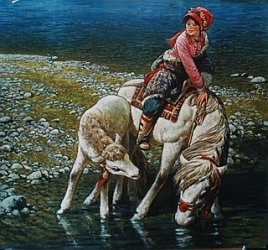 copyright Yang Dehua's widow
One day, we met and had a chat with a Tibetan grandma while we were waiting at Guole Station of Qinghai. She was wondering why Mr. Yang was travelling under such harsh circumstances and advised him not to flaunt his superiority of being of older age. And that he should allow young men to do such things.
The grandma did not know that Mr. Yang strived for this opportunity for the happiness of his spirit by bearing arduous conditions. And she did not know what it means for an artist to experience true life. At that time, we had not contacted our families for more than 20 days. Our relatives thought we had disappeared and asked the Academy to inquire for us in Yushu.
At some time a Tibetan asked Mr. Yang whether he was prospecting or not. Mr. Yang resolutely replied, "Yes, I am prospecting here for ores of life and arts."
Prospecting Ores of Arts
Mr. Yang is a man who dedicated himself to prospecting ores of arts. With diligence and tenacity he explored western nature and human culture. (comment by artelino: With "western" the author means the Tibetan and other areas in the West of mainland China.) The generation of Mr. Yang made contributions and produced art works by diligent labor and passion for art. Qujing, a frontier city, has been endowed with an atmosphere of arts after the political and military struggles of the thirties.
The art works of Mr. Yang influenced a whole generation. By adhering to the principle of life as a source for art creations, Mr. Yang silently worked with simple methods and with psychology to instruct young men to reject a pretentious or arrogant attitude in order to establish the fame of Qujing in fine art circles in Yunnan and even in China by their achievements. The results have proved that the idea of life as a source for art creation is correct and effective.
Exhibition In Bejing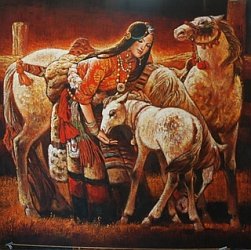 copyright Yang Dehua's widow
Two exhibitions of Qujing Painting Academy in Beijing were a confirmation of the academy's group style to present strong local characteristics and a rich flavor of life. Mr. Yang still remained tranquil and refrained from higher praises and exuberance. He said:
"We must be realistic in our art creations, neither being conceited nor belittling ourselves. Our down-to-earth painting style must be sufficient."
Mr. Yang's words and deeds are in accord. For more than thirty years, he has acquired outstanding achievements in painting and printmaking. In the meantime scores of his oil painting works participated in nation-wide exhibitions. In nearly ten years, his color painting works have formed a style of its own. They were exhibited in foreign countries, and found acceptance with collectors from different countries. With great regret, Mr. Yang has passed away in his sixties. If god had given him more lifetime, he would have given the world more exquisite art works.
Painting Album Finished before his Death
Recently, Ms. Cao Jingzhen, the wife of Mr. Yang Dehua, gave us a recently published painting album. Unfortunately, Mr. Yang could not see his album being finished only a few days before his death. When opening this painting album, my soul was brought to the western plateau (comment by artelino: meant are the Western provinces like Tibet and Yunnan) and was accompanied by the wind in those picturesque scenes full of color, passion and romanticism.
Just like a pilgrim to the arts, Mr. Yang wrote eulogies and portrayed ideal paradises with his industrious painting brush - paradises without any earthly hypocrisy, avarice, vexation and deception. I am moved by his love and hymn for harmony among humans and nature. Mr. Yang went so early. But he left his paintings. He devoted his life and his discovering spirit to the western nature and human culture. During the period when he suffered from his disease. Mr. Yang acquired an even more profound understanding of arts and life.
A Last Poem
Only in June, 2002, Mr. Yang called me and told me with excitement that he could return home and would complete his drafts as soon as he would be out from hospital. Mr. Yang wanted to communicate with me about his thoughts during his hospitalization. But he passed away.
I can conjecture what Mr. Yang wanted to say. As an artist he had devoted his life to the arts and the discovery of beauty of humans and nature in the western landscapes for several decades. Mr. Yang certainly had attained great discern and apprehension as well as a new spiritual state from a life of rich experience. I believe that Mr. Yang has found his peace of mind. He gave us beauty by his paintings.
In front of Mr. Yang's paintings, I dedicate a poem written by a poet who wandered with him in Tibet with affection and gratitude. May his soul rest in peace.
"Under azure sky,
Decorated white and grey,
Floating cloud
Being pregnant with life."
"Peace in earth,
In company with solemn atmosphere;
That silent magnificence shall
Incarnate permanent transmigration
Except beauty, noting we can see."
Yang Yongsheng, Qujing, December 2002
(Text edited and partly commented for better understanding by artelino
The images on this web site are the property of the artist(s) and or the artelino GmbH and/or a third company or institution. Reproduction, public display and any commercial use of these images, in whole or in part, require the expressed written consent of the artist(s) and/or the artelino GmbH.