Edutainment >

Xiong Xiqiu - Super Girl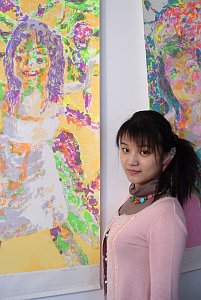 Ms. Xiong Xiqiu
copyright Xiong Xiqiu
"Supergirl - Supergirl - Supergirl"
The photograph shows Miss Xiong Xiqiu in 2005 at the 17th National Printmaking Exhibition in front of her two art works "Super Girl I" and "Super Girl II". Her two silkscreen prints mounted on a traditional Chinese scroll had been accepted for the 17th National Chinese Print Exhibition and had been published in the official catalog (page 101). A huge success for Miss Xiong Xiqiu.
Xiong Xiqiu is Super Girl
The young artist, born 1979, was only 26 years old when she had been selected for the highest ranking print art exhibition in China with a percentage of usually only 10% accepted of all submitted art prints. Xiong Xiqiu therefore has a good reason to be all smiles and look self-confident and upbeat. The young woman does not only look gorgeous. She has just shown the world what a talented and successful artist she is. Miss Xiong Xiqiu is Super Girl!
Super Girl - Modern and Traditional
Ms. Xiong Xiqiu was born in 1979 in Chongqing City of Sichuan province. In 2002 she graduated from Sichuan Art Academy.
Super Girl are two very large silkscreen prints. The artist chose a modern Western printmaking technique, a technique that was made popular by American pop art artist Andy Warhol (1928-1987) in the 1970s. Also Xiong Xiqiu's style is very modern. But she mounted the huge silkscreens on traditional Chinese scrolls.
The scrolls are huge with circa 20.5 by 59.1 inches = 150 by 52 cm. The edition size on the contrary is minuscule with 8 and 9 impressions. This makes these art objects a rare collector's item.
Author: Dieter Wanczura
(May 2009)
Super Girl - Gallery
Edition of 9

Super Girl No. 1
copyright Xiong Xiqiu
Edition of 8

Super Girl No. 2
copyright Xiong Xiqiu
The images on this web site are the property of the artist(s) and or the artelino GmbH and/or a third company or institution. Reproduction, public display and any commercial use of these images, in whole or in part, require the expressed written consent of the artist(s) and/or the artelino GmbH.