Edutainment >

Woodblock Prints

Woodblock Prints I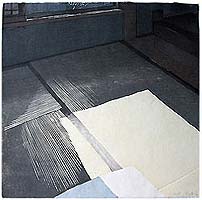 Woodblock prints
copyright Eva Prietzcker
Woodblock prints are amongst the oldest printing techniques, used to make book pages and later images. The earliest traces of woodblock printmaking were found in China. Later the Japanese adopted the technique and pushed it over centuries to the highest pinnacle of craftmanship and artistic expression.
Origins of Woodblock Prints in China
Woodblocks are amongst the oldest printing techniques, originally used in carved and formed stamps and seals. However printmaking would not have been possible without the invention of the paper. Scientists date the origins of paper making back to ca. 105 AD in China.
Stone carving probably developed as the first printing technology: stones were rubbed with moist paper and ink, created engraved calligraphy. Afterwards or in parallel, the woodblock print developed. The first Chinese woodblock print book, the Diamant-Sutra from Dunhuang, dates back to 868 and is so technically advanced that one assumes woodblocks must have developed long before then.
There is a Japanese print, "Dharanis", that dates further back to 770 and was strongly influenced by Chinese prints. Dharanis consisted of Buddhist prayers and had a circulation of one million. But it is unclear whether they were made by wood block printing plates. In general, wood cuts were used in the first centuries in China exclusively to spread Buddhist texts and amulets.
Woodblocks in Europe
Woodblock Prints II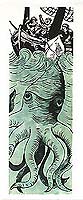 Woodblock Print
copyright Eva Prietzcker
Woodblock printing arrived much later in Europe. The printing of cloth with a wooden matrix was common for several centuries. Woodblock printing had to wait, however, until the introduction of paper production in paper mills in the 1390s.
The first woodblock prints were single page prints: pictures of holy figures who were called upon in bad times and whose images offered protection. They were stuck on the covers of books or pinned to walls. Sometimes entire doors and ceilings were also covered with these prints. These early prints were made by hand with a muller. They were also sometimes hand colored by so called "letter painters" with help of patterns. But these painters took care to leave the lines visible.
Woodblock Prints III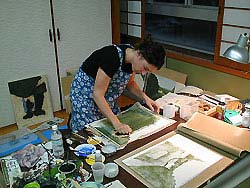 Woodblock Print Pressing I
copyright Eva Prietzcker
Woodblock prints in Europe began to develop their own style at the end of the High Gothic period. At that time lines cuts were the most prevalent type of print. The black lead drawing of colored Gothic glass windows is similar in style to these early wood block prints. It was not until much later in the 19th century that fine detailed master prints developed. These were often used as illustrations in books.
Block books followed the single page prints, which were also pressed or rubbed onto pages. Because they could only print on one side, the blank sides of two sheets were glued together to create a single page. Text was also carved into the woodblocks, accompanying printed illustrations. Popular block book themes were the poor's Bible, the death dance or books of planets.
The block book survived the invention of the movable type around 1440. Words and pictures were separated and ratio of picture to text was reversed. In block books, pictures instead of text dominated. They were now made with the help of printing presses: the woodblocks were cut to the height of the lead letters and fit into the printing press.
Hartmann Schedel and Albrecht Dürer
Woodblock Prints IV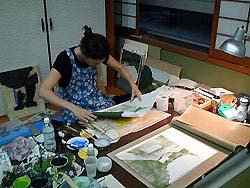 Woodblock Print Pressing II
copyright Eva Prietzcker
Around 1500 the wood cut blossomed in central Germany (Augsburg, Ulm, Nuremberg) and the Netherlands as book illustrations. One of the most important works from this period is Schedel's Weltchronik, which was illustrated with 2,000 woodblocks, made by about 100 men at 24 printing presses in Nuremberg. At that time, it was common to distinguish between the various people involved in the woodblock making process: the one who draws (artist), the one who cuts (carver), and the one who presses it onto paper (printer).
The creator of the design often remained anonymous, and only certain artists excelled at the art. First was Albrecht Dürer (1471-1528) from Nuremberg, who brought woodblock making to a new level and transformed the art. His large woodblocks, especially "Apocalypse" with its monumental and dramatic composition with its forcefulness brought him fame and gave the woodblock a new meaning.
Decline and Comeback of Woodblock Prints
In the 16th century etching developed into the most needed printing technique in all of Europe. Thus woodblocks were displaced, losing importance with the invention of lithography and later photography. For this reason it remained above all an artistic printing means instead of something more practical and economical.
This changed, however, with the opening of Japan in 1867, which brought Japanese woodblocks from Japan to the west, impressing artists like Gauguin, Munch and van Gogh. The woodblock had a special significance at the beginning of the 20th century for German Expressionists of the Brücke.
Techniques of Woodblock Prints
Woodblock Prints V
Carving of a Woodblock
copyright Eva Prietzcker
The woodblock is a form of relief printing and is based on the principle that parts that are not to be printed are cut out. Instead colors are pressed on the raised parts, applied like a relief and and this would then be rubbed onto a piece of paper or pushed through the press, in which case the the reliefs would be reversed.
Classic lumbers used in woodblocks are mainly fruit bearing trees like cheery or pear, which make for detail rich sketchings. In contrast, linden and poplar are easier to cut but also splinter more easily. Plywood is also used today in woodblocks.
In the western woodblock tradition, colors are pressed and applied onto the block with a roller. In Asian woodblocks, watercolors are applied with a brush and the inked motifs are then rubbed onto a dry or moistened paper.
Eva Pietzcker,
The images on this web site are the property of the artist(s) and or the artelino GmbH and/or a third company or institution. Reproduction, public display and any commercial use of these images, in whole or in part, require the expressed written consent of the artist(s) and/or the artelino GmbH.