Edutainment >

Wang Jianjun - Resume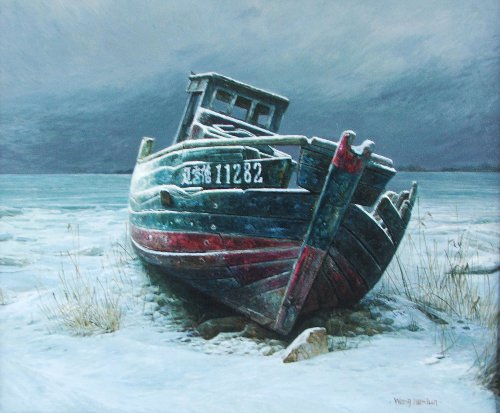 Oil Painting by Wang Jianjun
copyright Wang Jianjun
Mr. Wang Jianjun practices a classical painting style that could have honored a European academy painter in the 19th century. But his subjects are rather Chinese - views of the disappearing Chinese rural areas and typical views outside the big cities.
Realistic Oil Painting
Wang Jianjun was born in 1964, in Yunkou City Liaoning Province. He graduated from Luxun Fine Arts Academy in 1989.
He is a member of Artists Association of Lioaning Province and the Executive Director of Artists Association of Yunkou City. From 1990 on he began to paint in realistic oil painting techniques. On the occasion of trips to Tibet, Gangshu, Qinghai, Xingjiang and Yunnan Provinces Wang Jianjun collected impressions and sketching material for his paintings.
Oil Painting by Wang Jianjun
copyright Wang Jianjun
In Songzhuang Artists' Village
In 2003, he settled down in Songzhuang Artists' Village and became a professional artist. In recent years his paintings have become popular in China's market. They have been collected by a growing number of art friends from China, but also outside of China..
Retro-Classical?
Wang Jianjun's classical painting style and subjects are in contrast to an ever changing art scene with the fast coming and going of new trends and art movements. In their 'normality' and 'purity' these paintings could even be seen as a kind of retro-realism style.
Author: Dieter Wanczura January 2012
The images on this web site are the property of the artist(s) and or the artelino GmbH and/or a third company or institution. Reproduction, public display and any commercial use of these images, in whole or in part, require the expressed written consent of the artist(s) and/or the artelino GmbH.