Edutainment >

Tsunetomi Kitano - 1880-1947

Tsunetomi Kitano I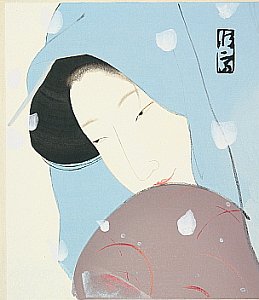 Japanese Prints - Home
Woman in Snow, 1923
copyright protected
Tsunetomi Kitano had made himself a name as a great artist of bijin-ga, images of beautiful women. He was a dominating figure in the art scene of Osaka in the first half of the twentieth century.
The images on this page are link-sensitive and take you to other articles or web sites in which you might be interested.
Apprenticeship with a Woodblock Carver
Tsunetomi Kitano was born in Kanazawa Prefecture under the real name of Tomitaro.
In 1901 he moved to Osaka and became a student of Ineno Toshitsune to study Nihon-ga - Japanese-style painting and traditional printmaking. Toshitsune had been a pupil of the great Meiji artist Yoshitoshi. Tsunetomi Kitano had a job as an illustrator for a local Osaka newspaper. This gave him a secure income.
Bijinga - Images of Beautiful Women
Tsunetomi Kitano II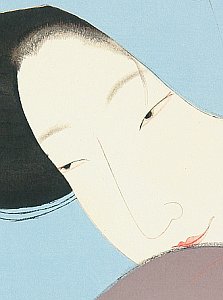 Japanese Painting
Woman in Snow (Detail)
copyright protected
Tsunetomi soon became the dominant painter and printmaker for bijinga - images of beautiful women - in Osaka. Kitano had developed a style of his own - traditional and modern at the same time. The woman designs of Tsunetomi Kitano are reduced to the essentials. His art prints are the opposite of lush decorations. Somehow they look like the artist wanted to save on color and pencil strokes.
Maybe this is the reason why these prints are so appealing to art lovers of our time.
The Art Teacher Tsunetomi Kitano
In 1924 Tsunetomi Kitano established an art school and publishing firm with the name of Hakuyodo. Among his students were Chigusa Kotani and Shima Seien.
Author: Dieter Wanczura
(May 2002, updated September 2009)
Literature sources used for this Tsunetomi Kitano biography
Helen Merritt and Nanako Yamada, "Guide to Modern Japanese Woodblock Prints: 1900-1975", published by University of Hawaii Press, Honolulu, ISBN 0-8248-1732-X
The female image - 20th century prints of Japanese beauties, ABE PUBLISHING LTD., Tokyo & Hotei Publishing Leiden, ISBN 90-74822-20-7
The images on this web site are the property of the artist(s) and or the artelino GmbH and/or a third company or institution. Reproduction, public display and any commercial use of these images, in whole or in part, require the expressed written consent of the artist(s) and/or the artelino GmbH.