Edutainment >

Join the Society for Japanese Arts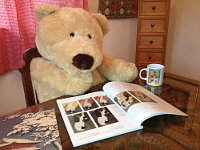 This article is an exclusive interview by the artelino company with Bruno, who has recently applied and was admitted as new member of the Dutch based, but worldwide active Society for Japanese arts.
See the spectacular photographs, read the interview after the section of images and become a member of the Society yourself.
Bruno - Latest Member of the Society for Japanese Arts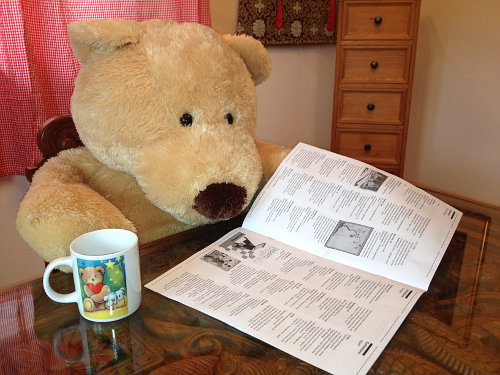 A good cup of strong coffee and the Newsletter of the Society for Japanese Arts. That makes his day.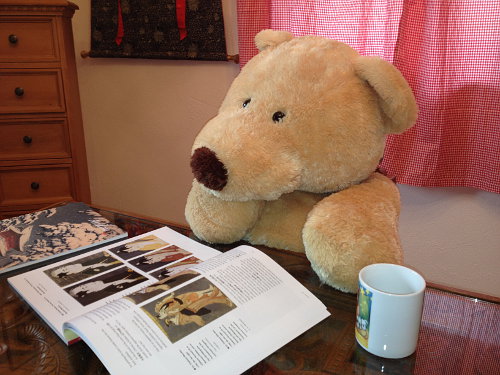 ... or Andon, the high-class periodical published by the Society. Here Bruno is reading an article about Sharaku. He likes especially the articles with a lot of pictures.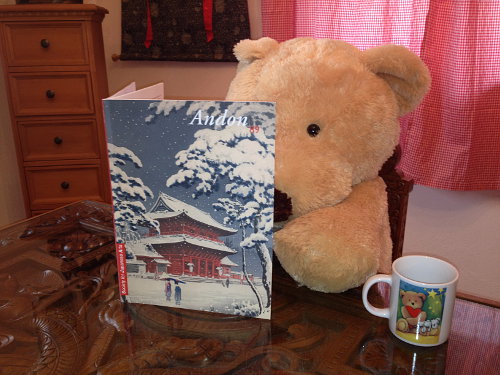 Hasui Kawase, one of Bruno's favorite artists! By the way, Hasui and Bruno have something in common. A bad eyesight.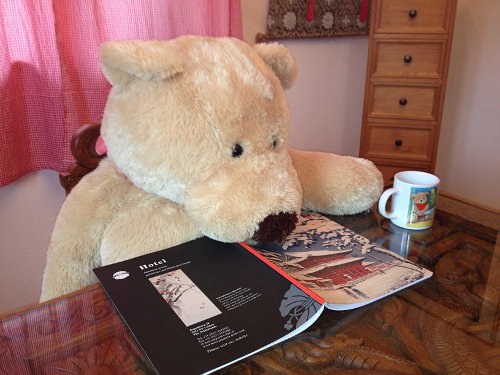 Wake up Bruno! Something is wrong with that picture.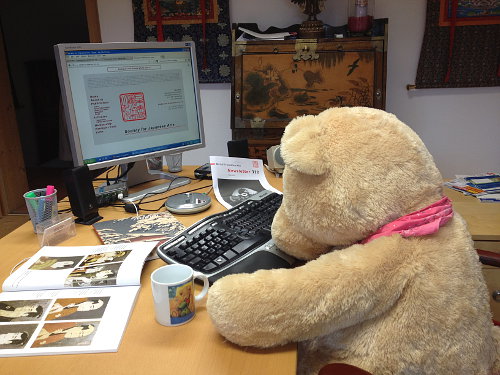 Bruno goes online. He found the website of the Society. Success!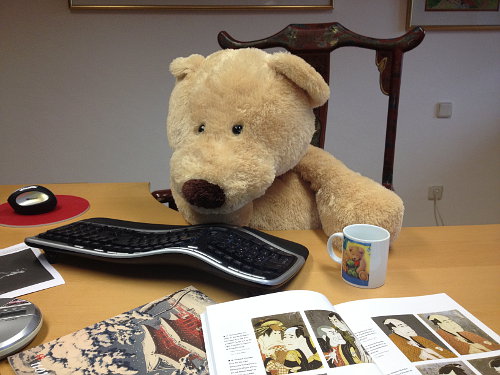 Something is captivating his interest.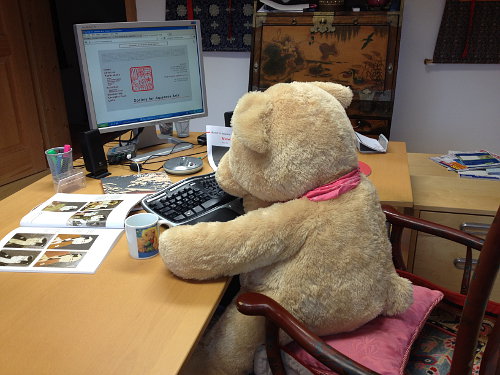 A bit challenged he is. An IPad touchscreen for Christmas! That would make his day.
Exclusive Interview with Bruno
artelino: "To begin with, we want to thank you Mr. Bruno ..." (interrupted).
Bruno: "Please call me just Bruno."
artelino: "Well Bruno, thanks. How come that you became the latest, and to our knowledge the youngest member of the Society for Japanese Arts?"
Bruno: "Whenever the postman brought a new issue of the quarterly newsletter or the periodical Andon magazine, I had to quarrel with Dieter about who was the first to read it. Finally Dieter had enough and applied for an additional membership in my name, and artelino is paying my annual membership fee."
"How much is the membership fee?"
Bruno: "? 50,- for members in the Netherlands, ? 60,- for European members outside the Netherlands, and ? 70,- for members outside Europe with reductions for payment by bank transfer (EU) or credit card (outside EU) and reductions for students."
artelino: "Are there reductions for little bears?"
Bruno (sighing): No, not really."
artelino: "What is the Society for Japanese Arts?"
Bruno: "In 1937 'The Society for Japanese Arts and Crafts' which was later renamed 'Society for Japanese Arts' was founded by a small group of Dutch collectors and dealers. Today the society, although based in the Netherlands, is really international with USA members as the second largest group."
artelino: "What are the advantages of a membership?"
Bruno: "By becoming a member of a worldwide community with same interests you receive information that you could never collect not even in the internet. The quarterly newsletter informs about museum and gallery exhibitions all over the world, about important real world auctions, new books and more. And finally there is Andon, a high class periodical with high class articles and a lot of nice pictures." (smiling)
artelino: "We have heard that the Society has announced that from January 2013 on no more newsletters in printed form will be sent to the members."
Bruno: "That's correct. The guys are now embracing the digital era. News will be made available by member access via their web site and by newsletters sent by e-mail."
artelino: "Are you worried? I mean, well, with your clumsy paws?"
Bruno (slightly angry): "I admit that a normal PC screen with a conventional keyboard is a bit of a challenge for me. Recently I wanted to access a web site for Japanese prints, made a typo with the URL and landed on a dating site for bears." (giggling)
artelino: "A bit of a problem then?"
Bruno: "No, not really. Dieter is considering to replace the old screens with modern touch screen monitors. And Christmas is not far away. An IPad for instance would do the trick." (smiling)
artelino: "Bruno, thanks for this interview."
Join the Society for Japanese Arts Now!
artelino recommends a membership with the Society for everyone who is interested in Japanese arts, and especially for those whose interest is in Japanese prints.
A membership is a good thing. It is affordable, you support a lot of positive activities and what you get back is worth more than the annual fee you pay.
Go to Society for Japanese Arts - Membership
"When Bruno can do it, you can do it too!"
Author: Dieter Wanczura, September 2012.
PS: That's the good thing about the internet. Nobody knows that you are a bear.
The images on this web site are the property of the artist(s) and or the artelino GmbH and/or a third company or institution. Reproduction, public display and any commercial use of these images, in whole or in part, require the expressed written consent of the artist(s) and/or the artelino GmbH.