Edutainment >

Shoen Uemura - 1875-1949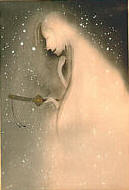 Ghost with a Japanese sword
In Japan female artist Shoen Uemura is a highly respected person and a kind of household name. People owe her respect for her courage to fight for the rights of women in Japan and for her achievements as a great artist.
The Little Girl from the Tea Shop
Shoen Uemura was born in Kyoto under the name of Tsune Uemura. Her parents had a little tea shop. But her father died soon and little Shoen grew up with her mother and a few aunts. As a child she showed all signs of a prodigy child. Her early drawings astonished everyone - her mom, her aunts and the tea shop clients.
From Courageous Woman ...
In 1887 at the age of twelve, little Shoen entered the Kyoto Prefectural Art School. Like all great geniuses, she left without graduation. At the age of fifteen she had her first important exhibition and won a prize.
Her teachers were Suzuki Shonen, Kono Bairei and Takeuchi Seiho. She was suspected of having a relationship with her teacher Suzuki Shonen and gave birth to a daughter. But she never revealed the name of the father.
Many of the works of Uemura Shoen show portraits of women, sometimes with children in a realistic, refined style. Uemura is often called a bijin-ga painter, a painter of the traditional Japanese subject of so-called beautiful women. But her portraits go beyond this traditional pattern. Her paintings and prints show a modern instead of an idealized picture of women. The preference for her motif reminds of the American female Impressionist Mary Cassatt.
... To Grand Old Lady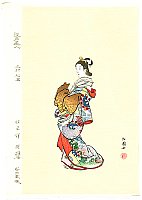 Edo Beauty
posthumous printing
In 1941 Uemura Shoen became a member of the Imperial Art Academy. And in 1948 she became the first woman to receive the Order of Cultural Merit.
Like several others of her contemporary Japanese fellow artists, she would most probably have made an International career if the time-schedule of her life had been a different one. She belonged to the generation of artists whose mature years happened to coincide with the great depression of the world economy, then the rising political tensions with the U.S. and finally the war between the two countries.
Without access to the large North American market, no Japanese artist can make an International career. And this rule is valid up to our days.
Uemura Shoen died at the age of 74 in her cottage in the mountains. She had painted until death took the brush out of her hand. Her son Shoko and her grandson Atsushi became artists themselves.
Literature sources used for this Shoen Uemura biography
Helen Merritt and Nanako Yamada, "Guide to Modern Japanese Woodblock Prints: 1900-1975", published by University of Hawaii Press, Honolulu, ISBN 0-8248-1732-X
The images on this web site are the property of the artist(s) and or the artelino GmbH and/or a third company or institution. Reproduction, public display and any commercial use of these images, in whole or in part, require the expressed written consent of the artist(s) and/or the artelino GmbH.