Edutainment >

Shiko Munakata 1903-1975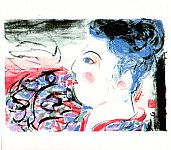 Blue Hair Lady
calendar edition
Shiko Munakata is one of the most significant modern Japanese artists of the twentieth century. His art work consists of paintings, prints, ceramics and calligraphy. Looking at his art work, the way he produced it and his fame, one could be tempted to call him the Japanese Picasso of the twentieth century.
Munakata Shiko - Born in Aomori
Shiko Munakata was born as the son of a blacksmith in Aomori Prefecture, located in the North of Japan's main island. He first began to paint in oil as a self-taught artist. Later in 1924 he went to Tokyo to study art.
Three years after the artist's death, the city of Aomori opened the Munakata Shiko Memorial Museum of Art. The museum web site has one page with a summary of the career of the artist in English.
Banga - Image from a Wooden Panel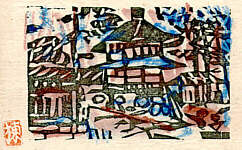 Temple
At the age of 23 Munakata Shiko saw a woodblock print by Sumio Kawakami and decided to try woodblocks himself. Under the guidance of Unichi Hiratuka he learned the art of making moku-hanga - woodblock prints. Three years later he exhibited 4 woodblocks at the Shunyokai exhibition. From now on Munakata Shiko was a hanga artist - a print artist. He continued to exhibit and by and by his reputation grew.
After World War II had ended, the artist became famous outside Japan. His works were shown at the Lugano Print Exhibition in 1952, the Sao Paulo Biennal in 1955, the Venice Biennal in 1956. In each of these exhibitions he was awarded with first prizes. After these successful exhibition, Munakata went to the U.S., where he lectured at different universities and had numerous solo exhibitions.
Munakata Shiko preferred to call his prints banga, which could be translated like picture made from a wooden panel.
Munakata Shiko - a Zen Buddhist
Munakata was a practicing Buddhist. Many of his prints and paintings show religious subjects. Other subjects are taken from Japanese legends or from nature.
Munakata's prints are larger than the traditional Japanese oban (10x15 inches = 25.4x38 cm) size. With his larger-sized prints he followed Western contemporary artist's and the buying habits of Western clients. Japanese homes are usually small and have little wall space to hang art work and therefore Japanese art buyers tend to buy smaller sizes.
A Munakata print is usually in black and white. The techniques he used are woodblocks, woodcuts and lithographs. Like Pablo Picasso, Shiko Munakata worked spontaneously, fast and was extremely prolific.
Medals, Honors and Awards
Towards the end of his life, Shiko Munakata was honored with medals and public honors. It would be too boring to list them all. He died in Tokyo in 1975 at the age of 72.
At the time when this article was published, the Philadelphia Museum of Art announced a great Munakata retrospective from July 27 - November 10, 2002. The exhibition is organized by the Munakata Museum, the Philadelphia Museum of Art and the Los Angeles County Museum of Art.
Literature sources used for this Shiko Munakata biography
Helen Merritt and Nanako Yamada, "Guide to Modern Japanese Woodblock Prints: 1900-1975", published by University of Hawaii Press, Honolulu, ISBN 0-8248-1732-X
The images on this web site are the property of the artist(s) and or the artelino GmbH and/or a third company or institution. Reproduction, public display and any commercial use of these images, in whole or in part, require the expressed written consent of the artist(s) and/or the artelino GmbH.