Edutainment >

Shi Leung - Biography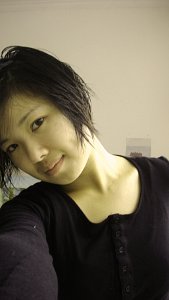 Ms. Shi Leung
copyright Shi Leung
This young woman grew up in the countryside where her childhood was influenced by nature and not by urban concrete. Today Shi Leung spends most of her time in Shangyuan Artists' Village near Beijing. Her art works are like musical compositions put together from colorful elements of nature. In a foreword to her first solo exhibition in Beijing's famous 798 Art District I found the sentence: "People will lover her work." I am sure they will.
The images on this page are link-sensitive and take you to other articles or web sites in which you might be interested.
Artist Career
Ms. Leung Shi is a young female artist, born in Hunan Province. She is from the Miao nationality. In 2005 she graduated from the Fine Arts Collage of Hunan Normal University. And in 2007 she began to live and work as an artist in Beijing Shangyuan Artists' Village.
Since then she has participated in many group exhibitions in Beijing, and held a successful solo exhibition titled - 'Those Stories I Like' in Zuotian Art Gallery in Beijing 798 Art District in 2010.
Artist Statement - The Life of a Migratory Bird
The following is a great statement written by the artist. Instead of telling us in flowery words about the deeper meaning of her art work, Shi Leung tells us about her youth and about her personal feelings and inner difficulties and doubts after she left her family and homeland in exchange for an artist's career in Beijing. Very frank, beautiful and a bit self-ironic; I like this statement.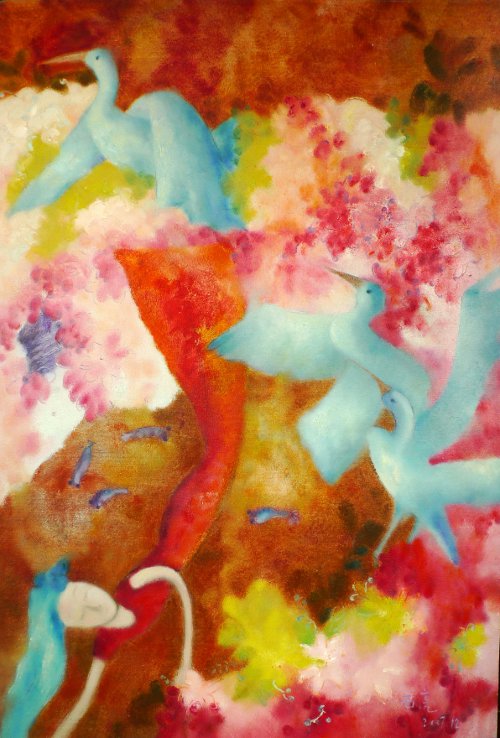 Sweet Dream
Painting by Shi Leung
copyright Shi Leung
"In my memory, ever since kindergarten, I was so keen on painting fairies and monsters on the walls and ground with anything which could be used as a brush pencil. Thus everywhere I went was left a 'masterpiece' of mine."
"Usually my grandma would cleanse my 'art works' with a mop. And as she wished to teach me a lesson using a stick, I quickly ran away through the peach orchard at the back of the house and hid myself in the back hills. And when the setting sun was about to disappear beyond the opposite mountaintop, I went back home happily."
"However, a talkative man who may have been a university student once told my mother that her daughter may have a gift for painting. Thereupon, I could take the painting brush as I wished."
"After college, I left the rainy and misty mountains county by train for the sunny capital, Beijing, to be an 'artist'. I hid myself in a small farmhouse located at Shangyuan and enjoyed my 'good time' from the flowers blooming spring to the red autumn."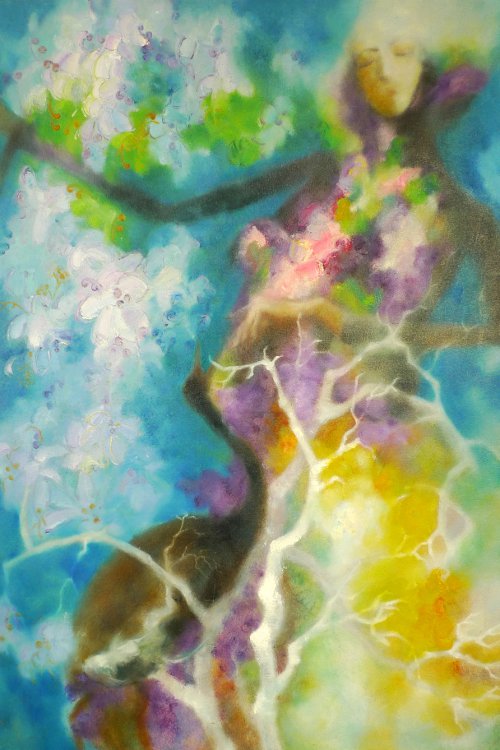 Blue Wind
Painting by Shi Leung
copyright Shi Leung
"However, life does not change its true character just because you close your door. When sorrow and helplessness floated down from heaven like winter snowflakes and covered the yard, I began to understand a lot. I am just like a flower that blossoms and withers, which has its ups and downs. And because all of this had been arranged by nature, which one cannot escape, I decided to be strong and calm."
"I do not have the eyes to penetrate this world but I have two hardworking hands. I tend to paint meticulously what I cherish most. I cannot bear the fast fading of the bloomy flowers that I deeply love. Then I put them in a clean vase so that they are able to bloom proudly for the whole spring. I cannot bear to see that the fairies and monsters in my heart become transparent just because of my growing up. So I make them alive in my paintings."
"I paint very slowly and many works were ruined. In my opinion, painting would start just when something unnamed brews in my heart. As for the unsatisfying works, I hope they are like the fallen leaves in autumn, which fall on the floor and are buried deep."
"Presently, usually on sunny afternoons, I often miss the green hills that tend to change in the misty rain and the shining rivers in my hometown. I also miss the peach-blossom grove where I once ran through bare footed and the hill where I once hid myself?"
"The feelings and memories of the childhood waft here from the south of the clouds like sweet melodies, makes me, a migrant far away from home, sense the feeling of loneliness. It is the feeling that lets me ponder and sigh and wonder what the important things are. Or is nothing important? What kind of excellent performances could overwhelm life itself?"
"I come to Beijing each spring, and go back to the county valley before it starts snowing. Just as a migratory bird flies to and from between two places, I am looking for something deep in my heart that I cannot describe."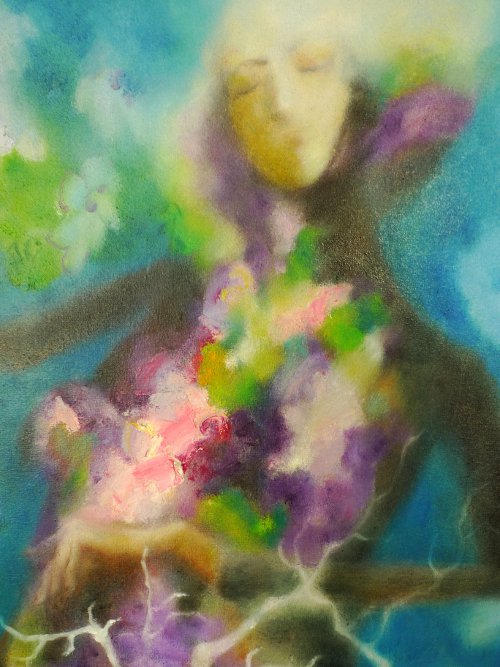 Detail from Blue Wind
Painting by Shi Leung
copyright Shi Leung
Those Stories I Like
Here is a short citation taken from the foreword of Shi Leung's solo exhibition - 'Those Stories I Like' which was held in 798 Art District 'Left Sky Art Space' Beijing, in 2010.
"People will love her works."
Author: Dieter Wanczura January 2012
The images on this web site are the property of the artist(s) and or the artelino GmbH and/or a third company or institution. Reproduction, public display and any commercial use of these images, in whole or in part, require the expressed written consent of the artist(s) and/or the artelino GmbH.