Japanese Prints: Condition and Value
Condition is paramount for collectors of Japanese art prints. The same print design by the same artist can be worth $500 or $100 or be worthless. This article tries to shed some light on the importance of condition and on a more recent phenomenon of worthless junk prints flooding the online market for Japanese prints.
Influence of Condition on Value of Japanese Prints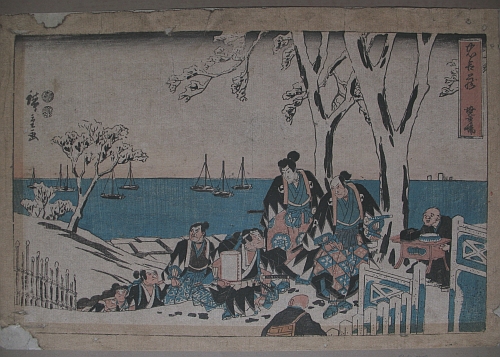 Japanese woodblock print by Ando Hiroshige.
Severe condition problems.
copyright protected
This is a rather distinctive example of a woodblock print with extreme condition problems by 19th century artist Ando Hiroshige. It was provided to us by a client. Currently we have nothing else to show. We would like to demonstrate severe print conditions on this page with more and better images. If you happen to have any such images and you are the holder of the copyright, please send examples to us. Thank you!
A Visitor to artelino from East Germany
It was circa 6 years ago, but I remember it still well. Someone from East Germany had contacted us on the phone. The person had about 300 Japanese prints that he wanted to consign to us. We then usually make a pre-check and ask the potential consignor to send us a few images by email. With this pre-check we can usually sort out prints that do not meet our quality standards and thus avoid unnecessary efforts on both sides.
However the person insisted on meeting us personally and therefore made a car ride of roughly 600 kilometers for no other reason than to consign his "treasures".
The "treasures" turned out to be a huge heap of Japanese junk prints - all with severe condition problems. Basically a heap of worthless junk.
It turned out that this poor guy had bought these prints over several months on Ebay™ - nearly all from one dealer - with the intention to resell them via our lively artelino art auctions with a profit. A tragedy. This guy had seen these prints on Ebay™ and had compared them with the prints shown in our archive. But this man had no experience in Japanese prints and did not know anything about the huge influence of condition on the value of a print.
Well, after coffee and cake, the poor guy drove home with his ca. 300 worthless prints for which he had spent thousands of EURO - for nothing.
Condition is Paramount
This print is worthless.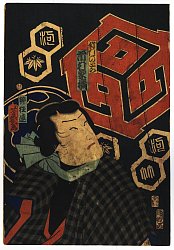 Japanese Print by Yoshiiku
Severe Condition Problems
copyright protected
Condition is something hard to evaluate for a beginner. I remember how ignorant and insensitive for condition problems I was when I bought my first Japanese woodblock prints many years ago. For a beginner an art print may look at first sight interesting, maybe even exciting. The subjects are all so new. And these spots and a few wormholes are for the newbie nothing unusual. "After all, this shows that this is an old and original print and not a recently produced fake." That's what beginners may think.
But it is the knowledgeable collectors and the experienced art dealers who make the prices. And if condition is beyond a certain minimum level - under consideration of age, importance of the artist and appeal of the subject - they will not be willing to pay you even $10 for that print that you bought on Ebay™ two years ago for $80.
Of course, an original Utamaro Kitagawa - 1750-1806 print from 1798 with major condition problems will still fetch a price. But for instance a Japanese print by Kunichika Toyohara (1835-1900) from 1890 with the same condition problems will normally be worth zero, not sellable to serious collectors or professional Japanese print dealers.
Condition Ranking
There is no real standardization scheme for condition problems and condition ranking of Japanese prints. An important British-Japanese dealer used over many years a condition categorization scheme like A1, C2, B3. But it has never become a general standard. And what may be described on one web site as "Overall a great choice for collectors. Excellent overall." may be ranked by others as "poor" or "fair".
Also the influence of specific condition problems on value depends much on factors like age of the print, importance of the artist, attractiveness of the subject or on factors like "Can it be repaired and is the total value after repair worth a costly repair."
Most dealers and auction houses usually describe and rank condition of Japanese prints subdivided into the three categories:
Quality of Colors (fresh or faded)
Quality of Impression (Earlier pulls from a woodblock print are better than later impressions because the woodblocks wear off by use.)
Quality of Condition (Spots, wormholes etc.)
Condition, Impression, Colors
Here is a list of some typical expressions describing condition, impression and colors - alphabetical order.
backed/ backing
bindingholes
browned
colors faded
colors run out
corners pierced
corners or margins worn
creased
dampmarks/ waterstains
early/late/recent/posthumous impression
earmarks
folds
foxmarks
fresh/faded colors
laid down/ glued at corners
missing area(s)
outlines or areas retouched
oxidation
pressure marks
restored areas
restored binding holes
restored corners
restored margins
restored wormholes
rubbed
scribbling recto or verso
soiled
stained
stains from glue or tape
tears
thin areas
trimmed outside or within margins
trimmed into image
wormholes/ wormage
yellowed
Junk Prints - a New Business Model?
They have been on Ebay™ for quite a few years: Japanese prints with severe condition problems that would never be offered by a serious, trustworthy ukiyo-e dealer. Basically worthless junk prints. But the junk prints apparently have found a market and seem to sell well.
Well, as everybody knows, Ebay™ is a different animal, for Japanese art prints a kind of jungle with a few opportunities for the experienced and some dangerous pitfalls for the inexperienced. Therefore serious dealers and experienced collectors were just watching, sniffing their noses, and not paying much attention to this new "business model".
However more recently the stuff is showing up also outside of Ebay™. Junk prints become more and more visible in the online market.
Where is the Source of the Stuff?
The ultimate source for Japanese junk prints is in Tokyo. Japanese dealers put them aside during the year and then sell them in large quantities to usually Western art dealers when they arrive. This does not take place in normal art stores but in non-public auctions that are accessible only for dealers - not for all dealers. The core auctions are reserved for few - the most potent dealers in terms of spending money.
When you have made it to the core auctions as a dealer you pay typically $10 or $15 per junk print or even less. Typically such prints are then sold in the Internet for $50 and $75. The profit range of 500 percent allows a generous budget for promotional activities, advertising and buying incentives.
The Japanese dealers who sell the junk prints are happy. Before, such prints were basically not sellable. Serious, trustworthy , established, "old-fashioned" ukiyo-e dealers did not buy them. They strive for offering their clients quality. Some have specialized in upper echelon prints, others maybe in middle-range quality and others deal also in cheaper prints. But none of them has gone below a certain level.
How to Recognize Good from Bad?
For a beginner difficult, very difficult. Only experience makes an art friend recognize good from bad. That has always been so. Buying and selling art has to do with trust - trust in the integrity of the person you deal with. Unless you have the experience to recognize good from bad, you are depending on your guts feelings or on the advice of an experienced friend.
From Collector Market to Consumer Market?
A German art dealer in Western art prints and old maps told me ten years ago about an interesting trend in the art market: He said that the percentage of collectors among art buyers has diminished over the years and decades in favor of "consumers", inexperienced people who want to decorate their walls and maybe think that they make a good financial investment.
I think this art dealer was right. This is a clear trend, and the Internet reinforces this trend. It is basically a good thing when people who have not bought art before, do so now. Many first-time art buyers thus get the chance of discovering a new world of beauty and the fascination of art. But if they are taken to the cleaners they will hardly ever turn into collectors.
After all, serious collectors are still the most reliable basis of the Japanese print market - a fact that dealers can recognize now during the current recession more than ever.
Author: Dieter Wanczura
(April 2009)
The images on this web site are the property of the artist(s) and or the artelino GmbH and/or a third company or institution. Reproduction, public display and any commercial use of these images, in whole or in part, require the expressed written consent of the artist(s) and/or the artelino GmbH.