Edutainment >

Mori Yoshitoshi - 1896-1992

Mori Yoshitoshi I
Japanese Prints - Homepage
Something about Her, 1982
copyright Mori Yoshitoshi
If you think that Japanese printmaking is identical with woodblock printmaking, please think twice and look at Mori Yoshitoshi. Both the career and the prints created by this artist are very different. Mori Yoshitoshi was the master of kappazuri - stencil prints the Japanese way.
First Publication: May 2002
Latest Update: MAy 2013
Never Too Late for a Printmaking Career
Yoshitoshi Mori was born in Tokyo and had an academic art training at the Kawabata School of Fine Arts. After graduating from the art school, Mori became a textile designer and dyer of kimono fabrics.
When Mori made his first print, he was nearly sixty years old. His style is modern and typically sosaku hanga.
Kappazuri - Stencil Prints
Mori Yoshitoshi II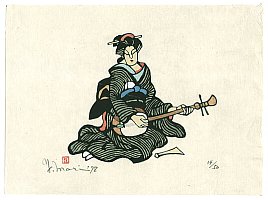 Japanese Shamisen - Article
Shamisen Player, 1978
copyright Mori Yoshitoshi
Kappazuri is a traditional Japanese printing technique, which is rarely used. In kappazuri instead of different woodblocks, stencils are produced - one key stencil for the outlines and one stencil for each color used in the print design. For the stencils a special thick paper or several layers of it are used. A dye-resist paste is applied to the areas that shall remain uncolored. Stencil printing is a complicated and time consuming process. The number of copies that can be drawn from one set of stencils is limited. This makes stencil prints expensive.
Mori had the best prerequisites for using kappazuri. As a textile dyer, he had worked with katazome, a similar technique used for creating designs on textiles.
Another artist who used kappazuri was Sadao Watanabe (1913-1996), also a member of the sosaku hanga movement. Of the contemporary artists Takahashi Hiromitsu and Paul Binnie are to be mentioned among those who use or used this technique.
Mori Yoshitoshi - Active Until The Last Day
Mori Yoshitoshi III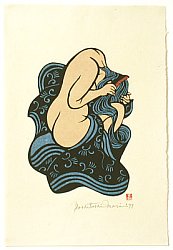 Sadao Watanabe - Biography
Arai Gami, 1977
copyright Mori Yoshitoshi
Mori Yoshitoshi had an incredible energy in his late years. From the late 50s until the end of his life he exhibited regularly in Japan and abroad in numerous art shows. In 1984, Yoshitoshi was awarded an honorary doctorate by Maryland University.
The prints by Mori Yoshitoshi are in major museums like the Tokyo Museum of Modern Art, the Museum of Modern Art in New York, the Art Institute of Chicago, the Boston Museum of Fine Arts and certainly a few more. Prints by Mori Yoshitoshi are rather rare and expensive.

Author: Dieter Wanczura
.. more about Dieter Wanczura
Literature sources used for this Mori Yoshitoshi biography
Helen Merritt and Nanako Yamada, "Guide to Modern Japanese Woodblock Prints: 1900-1975", published by University of Hawaii Press, Honolulu, ISBN 0-8248-1732-X.
The images on this web site are the property of the artist(s) and or the artelino GmbH and/or a third company or institution. Reproduction, public display and any commercial use of these images, in whole or in part, require the expressed written consent of the artist(s) and/or the artelino GmbH.