Edutainment >

Printmakers from Inner Mongolia

It started all with a long journey from Yunnan, the Southeastern province of China to Inner Mongolia in the utmost North of China. Artists from Yunnan for whom we had begun to sell their art prints, had some artist friends in Inner Mongolia, passionate printmakers like themselves. As artelino had sold the art prints from Yunnan pretty well and in quantities, the Yunnan artists encouraged their friends and colleagues from Inner Mongolia to do the same. They travelled for days to the North. And they came back with a treasure box full of wonderful reduction woodblock prints made by leading Mongolian artists.

In October of 2007 artelino began to auction the first woodblock prints received from this unusual cooperation project among artists. This page is meant to introduce you some of the artists.
Wang Zuocai - born 1959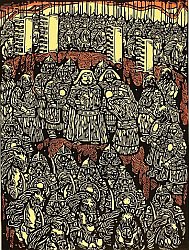 Fighting in the Center Place, 2006
copyright Wang Zuocai
Wang Zuocai is a leading painter and woodblock printmaker from Inner Mongolia. He has a succesful history of exhibitions and awards from important events in China. His prints are made in reduction woodblock technique and are kept in sober and earth-like colors. Works by Wang Zuocai are in the collections of many museums and galleries.
For more information please see - Wang Zuocai
Han Daiqin - born 1963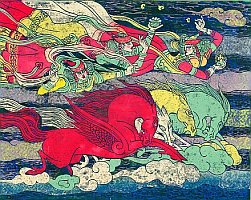 Prospitious Earth, 2000
copyright Han Daiqin
In 2005 Han Daiqin's art prints "Buetiechina" and "The Sound of the Horse-headed Fiddles" were selected as the front cover picture of the Elementary and Secondary School's 'Reading Text Book' of Inner Mongolia. Like many other Mongolian artists Han Daiqin likes to show images that glorify the days of Genghis Khan, picturing war-men on horses and other historic scenes. Other prints show a romantic view of the daily life of the nomad people like scenes from wedding ceremonies or Mongolian rituals.
For more information please see - Han Daiqin
Jie Rentai - born 1947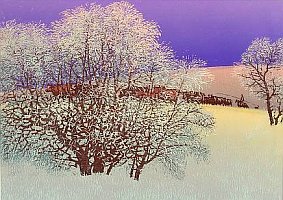 Morning with Dew, 2005
copyright Jie Rentai
Do you like romantic but wild landscapes, gorgeous sunrises over Mongolian grassland, wild horses, rain clouds, sunsets or rainbows - designed and painted in beautiful colors and in figurative style? Then the Mongolian artist Jie Rentai might become one of your favorite artists. Jie Rentai is a leading artist from Inner Mongolia with deep roots in the history and customs of his people.
The artist uses the reduction woodblock technique. Jie Rentai is especially good in the depiction of the Mongolian grassland scenery. Gorgeous compositions - often from bird view - and daring colors create images of a celestial atmosphere. His editions are very small with rarely more than 30 copies.
For more information please see - Jie Rentai
Tong Jingfeng - born 1963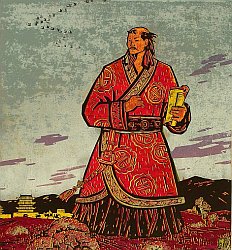 The Poet of Yuan Dynasty - Sa Duci
copyright Tong Jingfeng
Tong Jingfeng is a wonderful and great story teller who uses the technique of woodblock prints to get his message across. His stories are the glorified history of Mongolia from his view. But different from other artists his focus is not narrowed to the period of Genghis Khan and his sons, but his images cover the history of Mongolia since the bronze age. Tong Jinfeng's prints have received many prizes at art exhibitions and have been published in Mongolian magazines and newspapers. The artist has attracted some worldwide attention: His prints have been exhibited in Japan, the United States of America and in Korea.
For more information please see - Tong Jingfeng
Li Hua - born 1959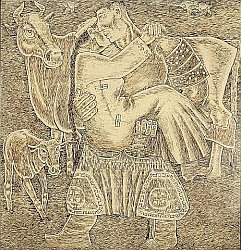 Buoke, 2004
copyright Li Hua
Li Hua's prints show us the life in the Mongolian grasslands. The artist works in reduction woodblock technique and with very small editions of partly not more than 6 copies. This makes him in our view the ideal favorite for passionate collectors of Chinese prints and for art investors. Li Hua has exhibited inside Mongolia and China, but also in Japan.
For more information please see - Li Hua
Lu Hongmei - born 1972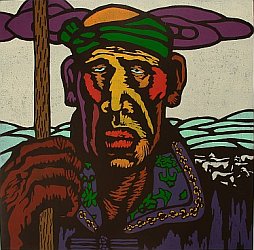 Watcher, 2003
copyright Lu Hongmei
Lu Hongmei, a female artist from Inner Mongolia, creates woodblock prints of the charming kind. Her style can best be characterized as "naive". She uses mostly bold colors in large flat areas, and sometimes black key lines as art friends may know from Japanese woodblocks of the 19th century. Lu Hongmei's editions are very small, and she works in the technique of reduction woodblock prints. This makes her print works most interesting for serious collectors and art investors.
For more information please see - Lu Hongmei
The images on this web site are the property of the artist(s) and or the artelino GmbH and/or a third company or institution. Reproduction, public display and any commercial use of these images, in whole or in part, require the expressed written consent of the artist(s) and/or the artelino GmbH.