Edutainment >

Marilyn Monroe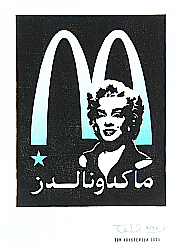 M is for Marilyn, 2008
copyright Tom Kristensen
Tom Kristensen, born 1962, is a young artist from Australia who works in the tradition of Japanese woodblock printmaking. On this page, he writes about his latest print "M is for Marilyn".
M is for Marilyn
The McDonalds franchise continues to cross cultural barriers and here the logo is presented in the Arabic script that can be seen on the restaurants of the Middle East.
Andy Warhol was one of Marilyn's many admirers and in 1964 he lovingly produced her iconic image from a promo shot taken by in 1953 by Gene Korman for the film Niagara. The line-work of this small woodblock image of Marilyn is based on the same photo, with the small addition of diamond earings.
Warhol produced his silk-screen prints using high contrast photographs that were projected onto the silk printing screen prepared with photo-sensitive emulsion. After exposure to the light the screen was washed and the light affected areas were washed away, leaving a highly detailed mono-tone image. In order to add colour to the image screens for the less detailed areas such as the skin tone, the hair, and the lips were cut by hand. With a set of screens prepared Warhol was able to print a large range of colour variants.
Tom Kristensen
April 2008
More about Tom Kristensen
The artist was first discovered by Eric van den Ing, co-author of a classic ukiyo-e book "Beauty and Violence" and owner of Saru Gallery. After Eric van den Ing had placed Tom's woodblock prints on his online gallery, a few days later a collector had bought the whole set. Mr. van den Ing seems to have a "magic hand" for new artists. He was the first to introduce Paul Binnie in 2000 to a larger online community of friends of Japanese prints.
The images on this web site are the property of the artist(s) and or the artelino GmbH and/or a third company or institution. Reproduction, public display and any commercial use of these images, in whole or in part, require the expressed written consent of the artist(s) and/or the artelino GmbH.