Edutainment >

Ma Li - born 1958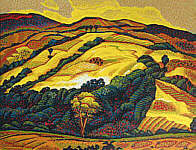 Feeling for Big Mountains, 2002
copyright Ma Li
Ma Li belongs to the artists of what has become known as the Yunnan Art School. His prints are colorful and expressive and are centered around Ma Li's passion - the mountains of Yunnan and the people who live there.
Born in Yunnan Province
Ma Li was born in the Southern Yunnan Province. Both his parents had moved from the plains in the North to this South-Western province of China.
Since 1986 he has exhibited widely in China, Japan and also in the UK. Ma Li's works are colorful. His style reminds somewhat of French fauvism or German expressionism. Most of his subjects are centered around the ethnic minority people who live in the mountainous areas of Yunnan.
Ma Li teaches at the Simao University in Yunnan. He has held workshops in printmaking in Bristol in the United Kingdom - mainly about a special technique that he and other artists of the Yunnan Art School developed and use - the woodblock reduction technique.
Awards
1996 - The print "Wasteland" was acquired for the Collection of Famous Chinese Artists' Artworks.
1998 - The art work "Picture of Outing from Mountains" received the copper prize at the Yunnan Art Exhibition.
1999 - The print "Country way under the Moonlight" was acquired by Yunnan Art School Collection
2000 - "Dadi Mountain" was awarded with a Silver prize at the 15th China Print Exhibition
2002 - "Feeling for the Big Mountains" was awarded with a Silver prize at the 16th China Print Exhibition.
Media
The artist works in the traditional woodcut technique. He uses oil colors for printing. A speciality of Ma Li is the so-called woodblock reduction technique that he and other artists developed in Yunnan. The technique uses one woodblock for all colors by cutting the image for the next color from the same block. Thus the original woodblock is reduced further and further, color by color.
Apart from the artistic challenge, this technique assures that after the first edition no further copies can be printed. The original block does not exist any longer.
Editions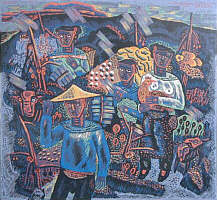 Picture of Outing from Mountains, 1996
copyright Ma Li
All prints that we have encountered by Ma Li so far are small editions, signed, numbered and dated in pencil by the artist. The edition size is very small - 10 or below in the 1990s and after 2000 you can find edition sizes up to 20 copies.
Like for many Chinese contemporary artists, Ma Li's economic basis is his position in teaching art. He is therefore not dependant on producing large editions for a commercial market and can develop his creativity without having to cater for potential art buyers.
The small edition size and the time-consuming and challenging woodblock reduction technique require and justify that prints by Ma Li are slightly more expensive compared to other contemporary Chinese artists. In springtime of 2004, artelino began to offer art prints by Ma Li for reserve prices starting at USD 150. The general level of contemporary Chinese prints is presently (spring time 2004) distinctively below international standards.
Ma Li and his Sentiments for Mountains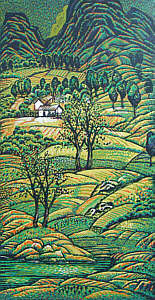 Picture of Early Spring, 2004
copyright Ma Li
Ma Li wrote the following text, titled "My sentiments for mountains", in which he explains why the motif of mountains plays such a paramount role in his artistic creativity.
"Mountains are for me like a book of life.

My parents come from Northern plain areas. But I grew up in a small border town surrounded by mountains in Yunnan province. People who lived here, have never seen anything else but mountains.

In my childhood, mountains were for me like a fairy storybook.

"A Long time ago, there was a mountain, and there was a temple in the mountains."

I was always told a story like this, when I was a little child. It was said there were many ancient buildings such as God's Temple, Emperor Pavilion, Guanyin Pavilion around the small town in which we lived. They were later demolished and only some symbolic big trees were left. When the night screen had hung down, I would see the trees through afterglow and it reminded me of those fairy tales. This kind of sense always followed me.

When I was a juvenile, mountains were like a textbook for me. The first time when I entered the mountain areas, perilous peaks and dangerous brambles had impressed me. But at the same time, I saw a sea of clouds and heard the soughing of the wind in the pines. The spring in the ravine seeped from the root of trees, like the thirst for life.

Streamlet of Hill Country, 1996

copyright Ma Li

In my youth, mountains were to me like a teacher. When I grew up, I learned a lot from mountains. They told me what means openness and tolerance. I became grateful because I had experienced all kinds of hardships. I became loving, because I had a better understanding of love. I became more open, because I was affected by the tolerant spirit of mountains. Mountains taught me to be persisting and devout to life. If you ponder over, you will find a kind of pure and noble quality of mountains, you will find them to be simple and unadorned, great and honest. All these qualities of mountains in fact come from life itself.

Leaves will only prosper well if the roots of the tree are deep. Because of my deep love for mountains, I am passionate to create. I have more source material, due to the rich experience of life. The deep understanding of mountains makes my artworks full of passion. It is the spirit of mountains."
The images on this web site are the property of the artist(s) and or the artelino GmbH and/or a third company or institution. Reproduction, public display and any commercial use of these images, in whole or in part, require the expressed written consent of the artist(s) and/or the artelino GmbH.