Edutainment >

Kusaka Kenji - born 1936

Kusaka Kenji I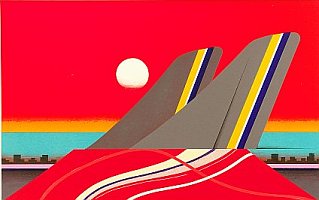 Japanese Prints - Info
Twilight at Haneda Airport, 1992
copyright Kusaka Kenji
The woodblock prints by Kusaka Kenji are in such prestigious museums like the Museum of Modern Art in New York, The British Museum or The Library of Congress in Washington D.C., and the awards he received at international print exhibitions are numerous. Nevertheless, art prints by Kusaka Kenji are seldom to be found on Internet web sites.
The images on this page are link-sensitive and take you to other articles or web sites in which you might be interested.
Eggs and Cloud Shapes
Kenji Kusaka was born in Tsuyama, Okayama prefecture. He uses the traditional woodblock printing technique for his bold compositions. In the 1960s he established for himself an international reputation by exhibiting in several of the Print Biennials in Tokyo, Lubjlana, Sao Paulo Florence and Xylon and winning important awards..
Kusaka's art prints are characterized by usually abstract or semi-abstract forms in bold colors with strong hues and intensive use of perspective and gradation. Thus he achieves the effect of "deep space". Favorite elements used by the artist are egg shapes and shapes that look like clouds.
Exhibitions and Awards
Kusaka Kenji II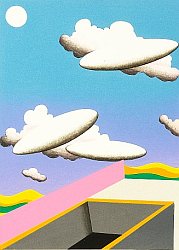 Hagiwara Hideo - Biography
Clouds
copyright Kusaka Kenji
1964 - Kanagawa Prefectural Museum (prize).
1966 - Tokyo International Biennial (Tokyo National Museum prize).
1967 - Sao Paulo International Print Biennial, Brazil.
1967, 1989 - Ljubljana International Print Biennial.
1968 - Florence International Print Biennial, Italy.
1969 - Tokyo International Print Biennial.
1985 - Exhibition of Modern Japanese Prints Travelling thorough the USA.
1993 - International Print Biennial, Netherlands.
Collections
Kusaka Kenji III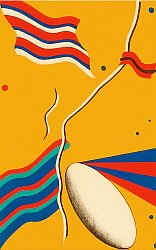 Shinoda Toko - Biography
Work 70 - 14
copyright Kusaka Kenji
Museum of Modern Art, New York, USA.
National Museum of Modern Art, Toyko, Japan.
Tokyo Metropolitan Museum, Tokyo, Japan.
Library of Congress, Washington D.C., USA.
Achenbach Foundation, San Francisco, USA.
British Museum, London, United Kingdom.
Colorado State Museum of Modern Art, Denver, USA.
Kanagawa Prefectural Museum, Japan.
Author: Dieter Wanczura
(August 2009)
Literature sources used for this Kusaka Kenji lllbiography
Helen Merritt and Nanako Yamada, "Guide to Modern Japanese Woodblock Prints: 1900-1975", published by University of Hawaii Press, Honolulu, ISBN 0-8248-1732-X
Frances Blakemore, "Who is Who in Modern Japanese Prints", John Weatherhill, New York and Tokyo, 1975. ISBN 0-8348-0101-9
The images on this web site are the property of the artist(s) and or the artelino GmbH and/or a third company or institution. Reproduction, public display and any commercial use of these images, in whole or in part, require the expressed written consent of the artist(s) and/or the artelino GmbH.