Edutainment >

Konrad Volkert - 1906-1999

This short biography is based on an article written by Erika Odoerfer, the artist's daughter. The original article was published in the magazine 'Frankenland', issue no. 7, September 1987. All images are for personal viewing purposes only and are protected by copyrights. They may not be copied or distributed without the prior permission of the artist's heirs.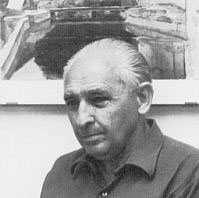 Konrad Volkert
copyright Konrad Volkert's heirs
His graphic works are in the possession of the British Museum. But few art aficionados know his name outside Germany and Franconia. Konrad Volkert went his own way as a passionate artist who portrayed his beloved Franconian homeland, the region with Nuremberg as its cultural and economic center.
While other artists followed modern trends like German expressionism or post-war abstraction, Konrad Volkert studied the German Renaissance master of the 15th century, Albrecht Duerer and developed a unique craftsmanship.
Born in Nuremberg
Konrad Volkert was born in Nuremberg as the son of a carpenter. His artistic giftedness was first recognized by his teachers, when the seven year old Konrad used to decorate the blackboard of the classroom with close to perfect drawings.
At the age of 14 the gifted young lad attended the Nuremberg Municipal Drawing School. Soon he attracted the attention of established artists and at the age of sixteen he was permitted to the master studio of Rudolf Schiestl. From him he learned printmaking and illustration from scratch. In 1927 he was appointed as a master student of his teacher.
Rome - Villa Massimo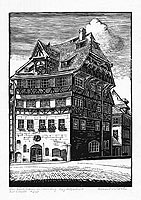 Albrecht Duerer House
copyright Konrad Volkert's heirs
After 1927 Konrad Volkert continued his studies in Berlin under Ferdinand Spiegel, Hans Meid and Oskar Bangemann. The young artist received his first commissions - illustrations for different magazines.
In 1931 his work was awarded with a medal by the Berlin Art Academy. Konrad Volkert returned to Nuremberg and began to establish himself as a freelance artist under difficult circumstances. It was the time of the great economic depression.
In 1934 Volkert received a fellowship by the Albrecht Duerer Foundation. And from 1939 until 1940 he was a guest artist of the famous Villa Massimo in Rome - financed by a scholarship of the Berlin Academy of Fine Arts.
1945 - Out of Ashes
What looked like a promising and bright career as an artist, was abruptly interrupted by the madness of world war II. The artist was called up to military service in 1940. At least he survived and could return to Nuremberg in 1945.
The home of his parents had been destroyed under the intensive air bombardments. Volkert had to restart from scratch. He dug his printing press out of the rubble and with a lot of improvisation and the help of a friend he could make the old press work again.
Like the Japanese artists after 1945, Konrad Volkert was able to win a new clientele - the members of American occupation forces. An architect had opened a small gallery near a sightseeing landmark in Nuremberg, where Volkert's works found eager buyers among American and British soldiers and tourists.
Albrecht Duerer House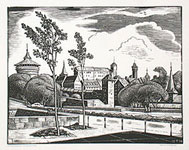 View of Nuremberg Castle
copyright Konrad Volkert's heirs
With great energy the artist began new designs. However problems with his eyesight curbed his printmaking activities. An innate eye-disease restricted his artistic work to not more than two hours per day.
In 1956 Konrad Volkert received a post as janitor of the Albrecht Duerer House. He could not only live in the originally restored house of the great master, but could also study his works in the library. Volkert was closer to his revered master than anyone in the 20th century probably was. And in spite of his eye-sight problems, the artist had a period of great creativity.
During the 80s he underwent several surgical operations which allieviated his health problems considerably. At that time he had already retired as municipal employee and caretaker of the Albrecht Duerer House. Konrad Volkert continued to create woodcuts, etchings and linocuts. He deceased May 29, 1999 at the age of 93.
Watercolors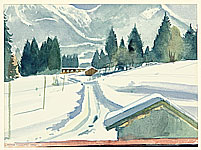 Kornau - Jugendherberge
copyright Konrad Volkert
Although Konrad Volkert's main activities had been focused on printmaking, his paintings shouldn't be seen as less important.
His landscape works are characterized by a feeling for three-dimensional views and a certain austerity of the compositions. But Konrad Volkert has developed also a sense for picturesque effects mainly represented in the sfumato to achieve a three-dimensional feeling. The application of a reduced set of colors allowed him to use the methods that he knew so well from his graphical works.
Volkert used colors in a more prudent way. His watercolors are more realistic than expressive. The early paintings from the fourties with images from Italy are characterized by a certain Southern atmosphere.
Different Painting Styles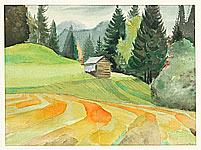 Kleinwalsertal
copyright Konrad Volkert
The development of Volkert's painting reflect his career as an artist. His basic concept of images had been formed by his study of renaissance art and of the works by Albrecht Durer. Konrad Volkert had learned from the old masters how to establish in his art works an all-embracing harmony.
But also Volkert's problems with his eyesight and the later cure by an operation may have had an influence on his paintings. While the landscapes of the fifties and sixties show a distinctive arrangement of space and composition, his later works show more devotion to details.
The image constructions are complex. The later works show more diversity - indicating the desire of Konrad Volkert to pay less attention to his personal style. His main focus was more on expressing personal emotions. His landscapes do not just display images. They express individual perceptions.
The images on this web site are the property of the artist(s) and or the artelino GmbH and/or a third company or institution. Reproduction, public display and any commercial use of these images, in whole or in part, require the expressed written consent of the artist(s) and/or the artelino GmbH.