Edutainment >

Kawanabe Kyosai's Cluttered Genius

Kawanabe Kyosai I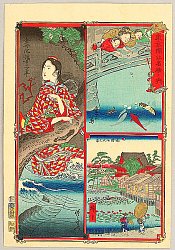 Biography of Kawanabe Kyosai
Dragon Lady - Tokyo Kaika Meisho
copyright protected
Nineteenth century Japanese prints have often been accused of being excessively crowded; indeed, James Michener devotes the better part of a page to proving so in his "Floating World", brutally dissecting a print by Kuniyoshi (227).
The images on this page are link-sensitive and take you to other articles or web sites in which you might be interested.
Kawanabe Kyosai and the Holy Grail of Ukiyo-e of Michener
I smile whenever I read Michener's dismissal of Kuniyoshi and wonder what he might have done had a print by Kawanabe Kyosai had been laid before him. It is somewhat satisfying to imagine the righteous and self-certain Michener clutching his eyes and rolling on the floor in agony.
The Eccentric Kyosai
If ever there was an artist who filled his "canvas" to the breaking point and beyond, it was Kyosai. And Kyosai's busy but brilliant prints are the best evidence I can present that we must take each artist, even each work, on its own merits, and understand it on its own terms. For Kyosai is probably the only Japanese printmaker who has made a virtue of clutter.
Looking into some of Kyosai's prints of the 1870s is like entering the study of an eccentric professor, who has half-open books piled here and there, scraps of paper with brilliant but incomplete ideas all over the floor, scribbling on the wall when paper was not at hand, and the windows open, letting the breeze play havoc with it all.
Kyosai Rakuga
Kawanabe Kyosai II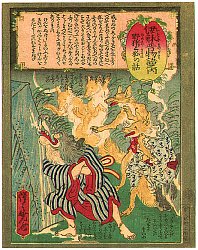 Japanese Woodblock Prints
Wild Boar and Fox - Tales of Aesop
copyright protected
His satirical series on the theme of "Enlightenment" (Kyosai Rakuga) is a typical example, each with up to ten small scenes happening simultaneously, no artificial breaks between the images, and manifold tiny details that open up to the viewer only when each figure in each vignette is viewed individually.
We "see" a print by a typical master of ukiyo-e almost instantaneously, even from a distance across the room, but the prints of Kyosai require a different kind of looking. We must get intimate with them, press our faces close to them, and examine each small detail in order to enjoy them fully; at first glance they are merely a mess.
But within the jumble of Kyosai's images are scenes of such wit, imagination and telling detail that not to give them the time and attention they deserve is tragic. Kyosai's prints are surely demanding, but if we are up to the challenge, the pleasures that await are of an altogether different flavor, like the paintings of Bosch or the novels of Pynchon.
Not all of Kyosai's prints are as crowded and busy as Rakuga group, though a great many of them certainly are. Kyosai was a versatile artist, an eclectic painter who dabbled in printmaking as a hobby it would seem, and knew how to match the approach to the subject. So when we look at the Kyosai Hyakuzu, Rakuga or some of the crowded triptychs, we should be aware that Kyosai was not an unskilled scribbler, incapable of shaping a meaningful composition, but rather that he chose his complicated style for a reason.
Kyosai's Enlightenment
Kawanabe Kyosai III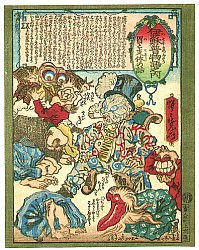 Printmaking
The Lazy One in the Middle - Tales of Aesop
copyright protected
The key to understanding Kyosai's cluttered compositions, I believe, lies in the aforementioned "Enlightenment" prints of the Rakuga. Here, Kyosai meets the influx of Western learning with the bitterest scorn, showing the (now dismissed) traditional images of the supernatural world reacting to the government edict for "Civilization and Enlightenment".
It was not the West itself that Kyosai-illustrator of Aesop's Fables and master of a Western pupil-rejected, but rather the unnaturalness of the imposition of Western culture on the Japanese. He depicts the Buddhist guardian deity eating meat, the demons of hell having their horns cut off, all the ghosts and monsters of the past in school, learning to be "civilized".
But the style, with its clutter and confusion, its almost overbearing load of details, is as direct an expression of the stresses, shocks and pains of an imposed indoctrination as the subject matter. Kyosai's print, like Western civilization, is simply too much to take in all at once.
Kyosai's prints are not beautiful, in the manner in which Michener and other early writers on ukiyo-e looked for beauty within this form. They are, however, aesthetically refined, and artistically, culturally, deeply meaningful.
Kyosai's images are no floating world fantasies, in the dreamy manner of the eighteenth or even the typical supernatural manner of the nineteenth century; rather, they utilize supernatural material for entirely worldly purposes, speaking of modernization with ghosts and demon, and modern wars with battles of frogs or farting men.
The genius of Kyosai's prints has been recognized by art critics and dealers, and his oban prints are now quite expensive. But there are yet many exciting works by him in smaller format, in harimaze prints, and in book form that remain affordable for the collector. Once the busy, crowded surface is passed beyond, the depths of fascination in Kyosai's works provide an inexhaustible source of delight.
Dan McKee
(November 2008, updated by Dieter Wanczura September 2009)
The images on this web site are the property of the artist(s) and or the artelino GmbH and/or a third company or institution. Reproduction, public display and any commercial use of these images, in whole or in part, require the expressed written consent of the artist(s) and/or the artelino GmbH.