Edutainment >

M is for Marx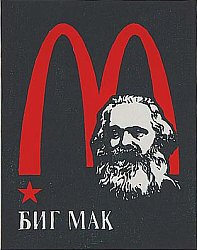 M is for Marx, 2006
copyright Tom Kristensen
Tom Kristensen, born 1962, is a young artist from Australia who works in the tradition of Japanese woodblock printmaking. On this page, he writes about his latest print: "M is for Marx".
Here is the original text written by Tom Kristensen. Text and images are copyright protected and may not be used or distributed for other than private use without the prior consignment of the author/artist.
Karl Marx
Karl Marx (1818 - 1883) saw history as class struggle in action. Marx believed that Communist revolution would lead to the fall of Capitalism. Throughout the 20th century social conflict blossomed, as Marxist philosophy was widely adapted to intellectualise revolutionary action.
In the rich tradition of misreading Marxism I have taken a Chinese woodblock portrait of Marx and combined it with the Golden Arches, reigning symbol of American style Capitalism. The text is taken from the current advertising for the Russian Big Mac. The red star descending is emblematic of the fall of Soviet style Communism.
Tom Kristensen
October 2006
The artist was first discovered by Eric van den Ing, co-author of a classic ukiyo-e book "Beauty and Violence" and owner of Saru Gallery. After Eric van den Ing had placed Tom's woodblock prints on his online gallery, a few days later a collector had bought the whole set. Mr. van den Ing seems to have a "magic hand" for new artists. He was the first, and before artelino, to introduce Paul Binnie in 2000 to a larger online community of friends of Japanese prints.
The images on this web site are the property of the artist(s) and or the artelino GmbH and/or a third company or institution. Reproduction, public display and any commercial use of these images, in whole or in part, require the expressed written consent of the artist(s) and/or the artelino GmbH.