Edutainment >

Kang Yongming - born 1943
copyright Kang Yongming
Mr. Kang Yongming is a well-known representative of a special Chinese printmaking technique named "fenyin". The characteristics of "fenyin" is the use of gouache colors. The technique was developed at the end of the Qing Dynasty (1911). Art works by the artist are in the collections of National Chinese museums and of museums in Germany (Munich) and Japan.
Tanggu Printmaker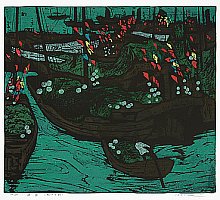 Sea Decoration, 1990
copyright Kang Yongming
Mr. Kang Yongming was born in 1943 in Tianjing city. Before his retirement he was president of the Tanggu Art Institute. In the official ranking of the Chinese State Department he had reached the highest level of a national first grade artist. Apart from his printmaking activities, he is also a famous artist of Chinese traditional painting.
Kang Yongming is one of the representative of Tanggu printmakers. He had studied printmaking with the famous artist Zhang Zuoliang (born 1927). In 1990 he was awarded as "Chinese Outstanding Printmaker". The same year he received the prestigious Luxun award by the National Chinese Printmakers' Association.
Preferred subjects of the artist are mostly landscapes. Kang Yongming uses the technique "fenyin". This is a term - named after the province where it was invented - to describe the use of gouache colors for printmaking. "Fenyin" is often applied on black paper. The technique of "fenyin" originates form the end of the Qing Dynasty (1911).
Affiliations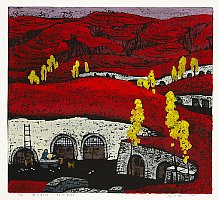 Red Autumn of Loess Plateau, 1992
copyright Kang Yongming
Member of China Artists Association.
President of Tanggu Artists Association.
Awards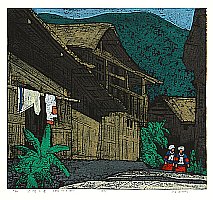 Frontier Village, 1995
copyright Kang Yongming
1990 - "Sea Decoration" was selected for the 10th National Print Exhibition of Cjina. Later this print was exhibited by the China Artists Association in Japan, Belgium and Taipei.
1990 - "In the Deep of Water Lane" was selected for the Korean International Print Exhibition. In 1991 this print was selected for print exhibitions in Beijing and Taipei
1990 - "Autumn Village" won a bronze medal at the Tianjin Provincial Print Exhibition and in 1991 this print was exhibited in Japan.
1992 - "Bright Lights and Snow Moon" was taken into the collection of the Korean Muban Institute.
Collections
Many of Kang Yongming's artworks were honored at provincial and national art exhibition and are in museums inside and outside of China.
China National Gallery.
Yanhuang Art Museum.
Munich Prehistoric Museum, Germany.
Kobe Educational Institute, Japan.
Chiba Art Gallery, Japan.
The images on this web site are the property of the artist(s) and or the artelino GmbH and/or a third company or institution. Reproduction, public display and any commercial use of these images, in whole or in part, require the expressed written consent of the artist(s) and/or the artelino GmbH.