Edutainment >

Kaiju Manga (6) - Snakeoil Tattoo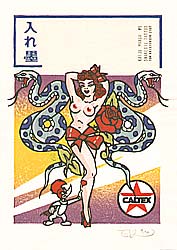 Kaiju Manga Snake Tattoo, 2007
copyright Tom Kristensen
Tom Kristensen, born 1962, is a young artist from Australia who works in the tradition of Japanese woodblock printmaking. On this page, he writes about his latest series "Kaiju Manga".
Here is the original text written by Tom Kristensen. Text and images are copyright protected and may not be used or distributed for other than private use without the prior consignment of the author/artist.
Snakeoil Tattoo - No. 6
Kaiju Manga 6 Snakeoil Tattoo
Like woodblock prints, the tattoo has a rich past, often intersecting with other art forms and crossing cultures. In Japan the tattoo has evolved to a high art over the past 7000 years. It is not surprising that the modern form is largely based on the Japanese tradition.
With the era of global shipping, sailors returned home with designs from around the world. Most prized were the elaborate and colourful full body tattoos from Japan. These tattoos took months to complete and were poked in by hand using a range of bamboo and steel needles. Many sailors had no chance to undergo the full procedure, so they created a demand for an easier style that still evoked the oriental designs. Smaller pieces were carved into timber and transferred to the skin as a woodblock print. With a needle and ink the print was made into a tattoo. Snakes and dragons were popular subjects. The Japanese tattooists were also woodblock artists working from popular designs. It is likely they also adapted sexualised shunga prints for this new international trade.
With the patent of a mechanical needle by Thomas Edison in 1876, the process became a booming business. Tattoo parlours sprung up worldwide in major seaports with their walls papered in loud coloured designs known as flash. After the invention of celluloid films the design were no longer carved in wood but etched onto the plastic surface. The etching was rubbed with a little carbon powder and then transferred onto Vaseline smeared on the shaved skin.
This print is based on two pieces of flash art created by Sailor Jerry, or Norman Keith Collins (1911 - 1973) of Honolulu, Hawaii. He was perhaps the most adept American tattoo artist working in the naval style. His work remains popular and influential. Life and death, or love and war, are primary concerns for a military man. A picture of beauty and the beast represents these dual themes.
Tom Kristensen
March 2007
More about Tom Kristensen
The artist was first discovered by Eric van den Ing, co-author of a classic ukiyo-e book "Beauty and Violence" and owner of Saru Gallery. After Eric van den Ing had placed Tom's woodblock prints on his online gallery, a few days later a collector had bought the whole set. Mr. van den Ing seems to have a "magic hand" for new artists. He was the first to introduce Paul Binnie in 2000 to a larger online community of friends of Japanese prints.
The images on this web site are the property of the artist(s) and or the artelino GmbH and/or a third company or institution. Reproduction, public display and any commercial use of these images, in whole or in part, require the expressed written consent of the artist(s) and/or the artelino GmbH.