Edutainment >

Inoue Yasuji - 1864-1889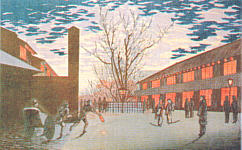 View of Cherry Trees at Evening in the New Yoshiwara
1881
Inoue Yasuji was the best student of Kiyochika Kobayashi. He could have become a great master of Japanese printmaking of the Meiji era. But instead, he died at the age of only 25.
In the Studio of Kobayashi Kiyochika
Yasuji was born in Tokyo as the son of a proprietor of a dry goods store. It is possible that he attended the printmaking school of Tsukioka Yoshitoshi at a very early age - it is not for sure.
When he was 14 years old, he became a student of Kobayashi Kiyochika. His master Kobayashi was something like the Last Mohican of traditional Ukiyo-e painting and printmaking. Under the impact of the Meiji revolution with Western achievements and Western art concepts flooding into the country, Kobayashi experimented with Western style elements and integrated them into his own art work - without giving up the unique forms and values of traditional Japanese art.
Thus was the atmosphere and the artistic background, which Yasuji Inoue encountered in the studio of his master.
French Impressionism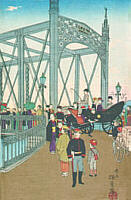 Dainippon Tokyo Azuma-bashi Shinkei
1887
The Japanese avantgarde art scene at the end of the nineteenth century was under the influence of French impressionism. One of the main aspects of impressionism was the depiction of the effects of light and shadows. And this was an aspect that Kobayashi and his star pupil, Inoue Yasuji tried to integrate into their prints. The depiction of light effects or shadows was something that the old ukiyo-e style did not know.
Kobayashi and Inoue often made several versions of the same design - one at daylight and one at night for instance. Preferred subjects were the urban views of new Tokyo.
Scenes of Tokyo
The style of the artist's prints is very close to that of his master during this period. Among his better known Inoue print works is a post-card series Tokyo meisho - famous views of Tokyo. Amy Reigle Stephens mentions in her book "The New Wave - Twentieth Century Japanese Prints from the Robert O. Muller Collection" 133 known print designs by the artist.
Yasuji is also known under the name of Yasujiro. This was his given name at birth and he used it frequently to sign his prints.
Literature source used for this Inoue Yasuiji biography
Amy Reigle Stephens, "The New Wave - Twentieth Century Japanese Prints from the Robert O. Muller Collection", Bamboo Publishing Ltd. London und Hotei - Japanese Prints, Leiden, ISBN 1-870076-19-2
Helen Merritt and Nanako Yamada, "Guide to Modern Japanese Woodblock Prints: 1900-1975", published by University of Hawaii Press, Honolulu, ISBN 0-8248-1732-X
The images on this web site are the property of the artist(s) and or the artelino GmbH and/or a third company or institution. Reproduction, public display and any commercial use of these images, in whole or in part, require the expressed written consent of the artist(s) and/or the artelino GmbH.