Edutainment >

Hokusai no Taki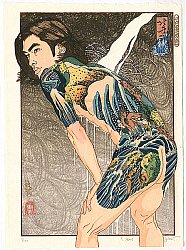 Hokusai no Taki, 2006
by Paul Binnie
copyright Paul Binnie
April 2006: Paul Binnie announced his latest tattoo design 'Hokusai no taki' - another tattoo design in the series 'A Hundred Shades of Ink of Edo'.
Here is the original text of the announcement by Paul Binnie:
Hokusai no Taki
"This is a brief update to let you know about two new woodblock prints which are now available, 'Hokusai no Taki' (Hokusai's Waterfalls) and 'Shinayaka na Yoin' (Jack)."
"Hokusai no Taki is the fourth in my current tattoo series 'Edo Zumi Hyaku Shoku' (A Hundred Shades of Ink of Edo) - which have had a surprising international success - and it uses images from Hokusai's famous Waterfalls series for the tattoo designs. In addition, the model is shown with water falling on his back, the spray of which is represented with hand-applied gofun, so the idea is reinforced in the print design, and the theme is continued in my seal, which this time represents a man in a barrel amongst waves (connecting to the idea of going over a waterfall in a barrel) made from the letters of my name."
"I have used this idea for creating seals in each of the prints in this series - a cat seal in Kuniyoshi's Cats and so on - and another motif in the group is that parts of the image escape from the border. In this case, the model stands outside the border, and is only cut off by the bottom edge of the paper, which is my usual Dai-Oban size, around 43 x 30cm (17 x 12 inches). Number One (1/100) from the edition will be auctioned on http://www.artelino.com/ between April 20th and 23rd, 2006."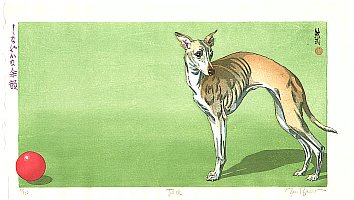 Jack - Shinayaka na Yoin, 2006
copyright Paul Binnie
"Shinayaka na Yoin means something like reverberating flexibility or lithe echoes, and I felt it was the perfect title for my print of Jack, our whippet, a dog full or nervous energy, speed and sudden stops. She is shown interrupted while playing with a bright red ball, on a green ground, and seems set to rush off at any minute. Again, both her tail and the ball escape the edges of the background, and the format is Naga-Oban, at 46 x 25cm (18 x 10 inches)."
"Both designs are editions of 100, on highest-quality Japanese washi paper and are available from myself or my usual dealers - listed under 'Contact Me' on my website."
Best wishes

Paul Binnie
April 2006
The images on this web site are the property of the artist(s) and or the artelino GmbH and/or a third company or institution. Reproduction, public display and any commercial use of these images, in whole or in part, require the expressed written consent of the artist(s) and/or the artelino GmbH.