Edutainment >

Teacher's Hanga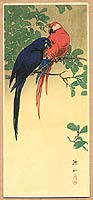 Blue and Red Macaws
by Sozan Ito, 1884-?
You may have heard about the famous Muller hanga ("prints") collection. But you have most probably never heard about Mary's collection. She came to Japan as a young art teacher in the 1930s and bought a small, but fine collection of Japanese prints - mostly shin hanga. It reminds us of what we have seen in numerous auctions of prints from the estate of the deceased Robert O. Muller (1911-2003).
Mary's collection will hardly ever be shown at the Sackler Gallery of the Smithonians. And most probably nobody will ever publish a book like "Mary's Collection - The New Wave". We at artelino received this collection of shin hanga in December 2004 as a consignment and found the story so charming that we spontaneously decided to publish it on our web site.
As we are not sure if the owner of the collection wants the publication of her full name, we call her just Mary.
Mary's Trip to Japan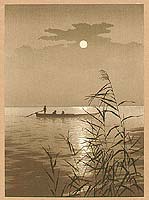 Moonlit Sea
by Koho Shoda 1871?-1946?
Mary was a young art teacher in the 1930s and just at the beginning of her career when she decided to make a trip to Japan. Her art background had given her an appreciation of Japanese woodblock prints. Like many Westerners before, she had become passionate for ukiyo-e.
A trip to Japan in the 1930s was very different from today's hop in an airplane. It was a costly, time-consuming and adventurous undertaking. A journey over the Pacific from the USA to Japan took at least two weeks in an ocean liner. And it was all the harder for a young woman who had an open eye for foreign cultures, but little money. But Mary made it.
After her arrival in Tokyo, Japan, Mary visited a large number of shops in which they sold Japanese prints. But her funds were limited of course.
Shin Hanga in Japan in the 1930s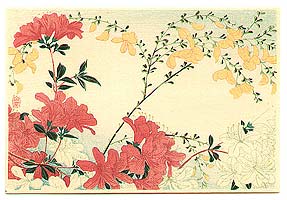 Azalea and Yellow Flowers
Hiroaki Takahashi 1871-1945
The market for Japanese prints in Tokyo in the 1930s offered basically three types of prints: Expensive originals of the great ukiyo-e masters like Utamaro or Hokusai, well-made reproductions and fakes of the old masters and last but not least, contemporary woodblock prints of the shin hanga movement.
Also the sosaku hanga movement should be mentioned. These were in a nutshell the Japanese version of modern 20th century prints made by ambitious artists, who not only designed their prints themselves, but also did the carving of the woodblocks and the printing themselves. But sosaku hanga were little visible in the market until after the end of world war II when the American soldiers stationed in Japan began to buy them.
Shin hanga - the "new wave" prints combined the traditional Japanese art of woodblock printmaking with some lesser revolutionary Western elements like the effect of light and shadow. It was basically a renaissance of the old ukiyo-e. The prints were the result of a team work of an artist, who designed the print, a skilled carver, a not less skilled printer and last but not least a publisher who was responsible for the commercial success. Shin hanga had reached a peak in technical perfection in the history of Japanese printmaking.
The "new wave" prints had been very popular outside Japan, mainly in the United States of America. The success story is closely connected with one man, Watanabe Shozaburo, the dominating print publisher and great mentor of shin hanga. And although Watanabe had even designed one or two prints himself, his strong point was not in arts, but as a smart business man.
In 1923, the shin hanga business had to take a terrible setback when the Great Kanto earthquake hit Japan. Watanabe's print shop with hundreds of blocks burned down in the raging fires that devastated the area of Tokyo and Yokahama immediately after the quake. But Watanabe recovered fast, and by the late 1920 and the early 1930s, his export business had reached new heights.
We do not know the precise year when the young teacher Mary came to Japan. But it was probably not before the middle of the 1930s. By then the political events quickly began to have a negative impact on Japanese print exports. With Japan's aggressive imperialism in Asia and its invasion of Manchuria and China, the world opinion turned against everything Japanese. The arts were no exception. Publishers like Watanabe had a hard time and tried to compensate for the loss of the export business by organizing exhibitions in Tokyo department stores.
As a consequence of the slump in overseas sales, prices for shin hanga prints were at their lowest. When the art collector and dealer Robert O. Muller came to Japan with his bride Inge in 1940, he could easily buy Japanese prints in large numbers.
Mary's Hanga Collection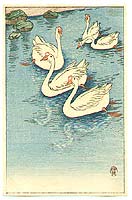 Swimming White Geese
by Koson Ohara 1877-1945
Mary bought her collection in the shops of Tokyo with two goals in mind: Which were the most charming ones and which would be most suitable as tools in art teaching? After Mary had returned to the U.S.A., her Japanese prints served well in art teaching for a career of roughly fifty years until her retirement.
The collection consists of mostly shin hanga, by such artists like Sozan Ito, Koho Shoda, Koson Ohara or Hiroaki Takahashi (Shotei). But also some good reproductions of famous ukiyo-e made it into her collection.
The print selection has a stunning similarity to what we have seen (and auctioned) in the past from the estate of the late Robert O. Muller. Some designs are even identical. Mary and Robert O. Muller had one thing in common - an excellent taste and a keen eye for Japanese print art. But the school teacher Mary did not have the budget to buy in larger quantities. And it had not been her goal either.
Mary was no print dealer, but a passionate art teacher. We liked her story and we think it required courage and and a brave heart to do what she started all alone and with little money in the 1930s. And later at home, it required the same courage to teach young Americans the beauty if Japanese woodblock prints in spite of all the anti-Japanese emotions in the 1940s and early 1950s. She was just an average American with an open eye for a different culture. With her little collection, her brave spirit and 50 years in art teaching she did practice the values that her country stands for.
Dieter and Yorie
The images on this web site are the property of the artist(s) and or the artelino GmbH and/or a third company or institution. Reproduction, public display and any commercial use of these images, in whole or in part, require the expressed written consent of the artist(s) and/or the artelino GmbH.