Edutainment >

International Guanlan Print Exhibition 2009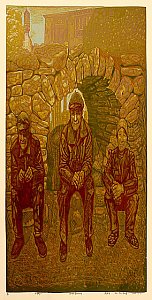 The Bridge
copyright Shi Yanqing
In 2007 the 'First Guanlan International Print Exhibition' took place in Shenzen, China as a biennial event. The 2009 Guanlan International Print Exhibition will open on May 14th. This article gives you some preview information on this important event - and last but not least we list the artists represented also by artelino who were selected for this prestigious art show.
International Top Art Show
The exhibition opens on May 14th. 1604 artists from 70 different countries submitted 2804 artworks to this juried art print show. Out of these 246 art prints from China and 341 prints from other countries were selected.
Represented by artelino
Of the Chinese printmakers that we have offered since 2003 we currently have news of the following artists having been accepted:
Accompanying Art Auction for the Guanlan Print Exhibition
Fortunately we still have several prints by the selected artists on consignment, mainly from the collection of the late H.T. - including the art print Bridge by Shi Yanqing. For this special occasion we are running an auction of Chinese art prints exclusively devoted to the participating artists from May 10 until May 17.
Gallery of Selected Artists
Here is one print art work by each of "our" artists represented in the Guanlan Print Exhibition.
Wen Mujiang - born 1970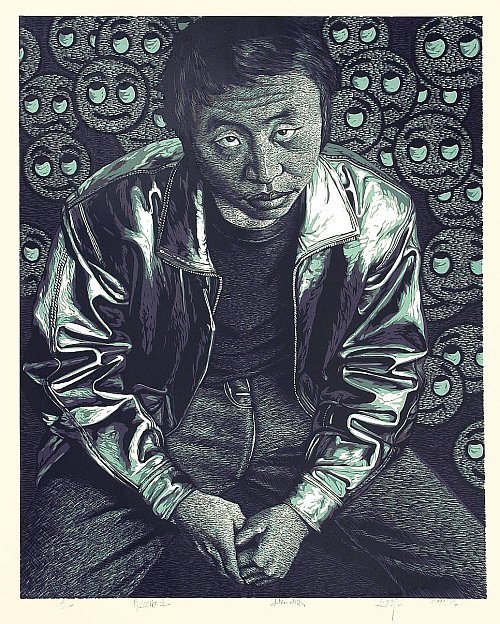 Man - February 2008 - Woodcut Print
copyright Li Yanpeng
Wen Mujiang was discovered by our art agent in China when he was still making his large woodblock prints on the balcony of a small apartment. Since then he has won major prizes. His art prints are still affordable - in spite of small editions.
Wen Mujiang - Sound of Sparrows
Wen Mujiang - Shadow of Breeze
Wen Mujiang - Red Tone
Wen Mujiang - Human Condition
Li Yanpeng - born 1958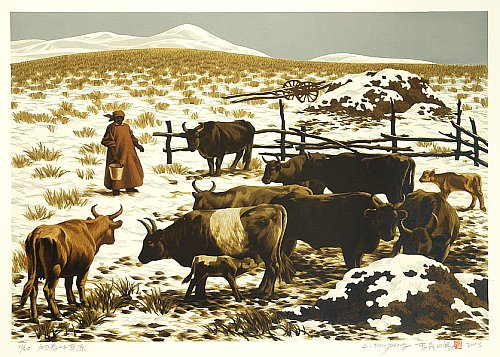 Grassland of Early Spring, 2003 - Reduction Woodblock Print
copyright Li Yanpeng
Li Yanpeng's landscape prints in reduction woodblock technique are unique. Prices have gone up considerably over the last years. If you are among the lucky ones who purchased one of the circa 100 prints that we sold by Li Yanpeng, keep them by all means. We expect higher prizes for Li Yanpeng in the future.
Li Yanpeng - Biography
Li Yanpeng - Essay
Latest Art News from Li Yanpeng
Shi Yanqing - born 1979
copyright Shi Yanqing
Shi Yanqing is still affordable with prices below $ 1,000 for an art print in small edition.
Shi Yanqing - Biography
Shi Yanqing - My Villagers
Chen Guangyong - born 1973
Face No. 1 - 2002 - Silkscreen
copyright Chen Guangyong
A hot tip for collectors. Normally hard to get. Thanks to our long and personal connections with many artists, we can currently offer an excellent collection of the best designs by Chen Guangyong for a very reasonable price that is distinctively below the prices in China.
Hu Xinqiao - born 1972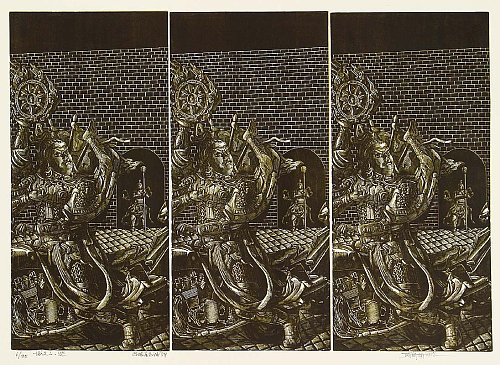 Cities Series - Patrol - 1998 - Woodcut Print
copyright Hu Xianqiao
Earlier prints by Hu Xinqiao are today hard to get and expensive.
Zhang Guilin - born 1944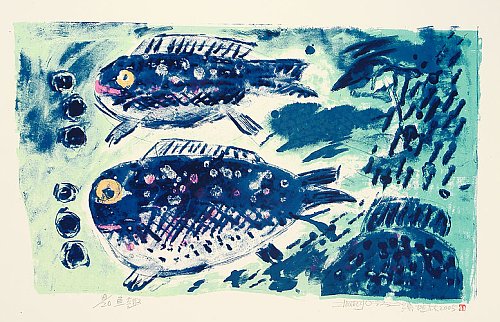 Fish's Delight - 2005 - Silkscreen
copyright Zhang Guilin
Zhang Guiling is usually sold out. I do not expect that we will be able to offer you any more art prints by this master who has specialized in silkscreen prints. Well, you cannot always get what you want. Sometimes it is better to take what you can currently get well and for reasonable prices.
Ji Shicheng - born 1957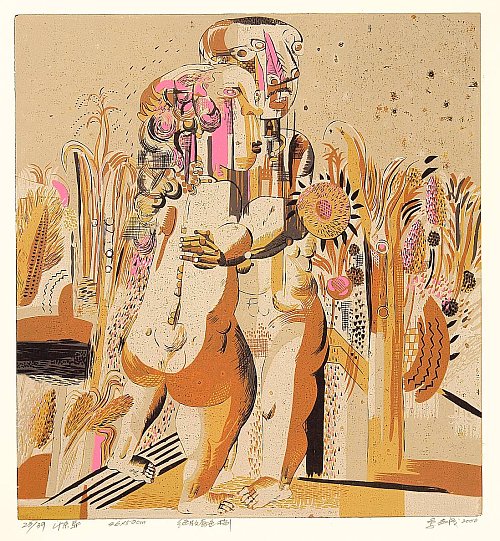 Astonishment - 2000 - Reduction Woodblock Print
copyright Ji Shicheng
Ji Shicheng has developed a style of his own - quite modern, but still figurative. His art prints are today "classics" of modern Chinese printmaking and are in important museums like the British Museum, the Chinese National Art Gallery. the Shanghai Art Gallery, the Yan Huang Museum, the Shenzhen Art Gallery, and the Guiyang Art Museum in China.
Exhibition Report
artelino will publish an exhibition report as soon as we will have news from the opening and will have the catalog in our hands (this may take).
Author: Dieter Wanczura
(May 4 2009)
The images on this web site are the property of the artist(s) and or the artelino GmbH and/or a third company or institution. Reproduction, public display and any commercial use of these images, in whole or in part, require the expressed written consent of the artist(s) and/or the artelino GmbH.