Edutainment >

36 Views of Green Island (7) - Storm Clouds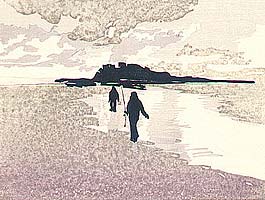 Stormy Clouds
copyright Tom Kristensen, 2004
Tom Kristensen, born 1962, is a young artist from Australia who works in the tradition of Japanese woodblock printmaking. On this page, he writes about his latest print from the series "36 Views of Green Island ".
Here is the original text written by Tom Kristensen. Text and images are copyright protected and may not be used or distributed for other than private use without the prior consignment of the author/artist.
36 Views of Green Island
"These 36 views are presented in the Sosaku Hanga tradition: self-carved and hand printed, using Japanese tools, Japanese mulberry washi and traditional pigment colours. Each print is made from 4 to 6 blocks and printed in an edition of 25 copies."
Storm Clouds - No. 7
"The fine quartz sand on the beach comes from the ancient erosion of sedimentary rock formed by marine deposits in the Permian period. The rock of the island was formed suddenly by volcanic activity when a layer of hard mozonite granite was forced into the soft sedimentary rock. For the last 250 million years the sand has continued to run from the hills and the island has emerged. The sweep of the beach, and the shape of the coast, is defined by the ocean working with the sand that loops between each rocky outcrop.
Beyond the rocky headlands and into the ocean depths there is more sand, sand in endless rivers, slowly drifting off the edge of the Australian Continental Shelf. The island endures against the wind and water that will carve it into boulders.
Below the waterline of the island the granite shelf spreads out and provides anchorage for kelp beds and other marine plants. The rock and the plants provide habitat for a huge variety of invertebrate creatures. On the beach there are shoals of fish that run, like the sand, in currents along the coast. Around the island the fish life is more settled, like the rocks. The beach fish are sleek and silver. The rockfish are more like rocks. Some people cast off the beach, and catch fish feeding in the sandy gutters. Other people have short rods and fish the rocks."
Tom Kristensen
April 2005
The images on this web site are the property of the artist(s) and or the artelino GmbH and/or a third company or institution. Reproduction, public display and any commercial use of these images, in whole or in part, require the expressed written consent of the artist(s) and/or the artelino GmbH.