Edutainment >

Gong Shaoshen - born 1982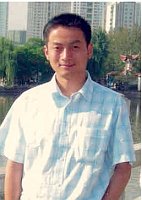 copyright Gong Shaoshen
Gong Shaoshang is still very young. Nevertheless he has already made it into the top level of the national Chinese print exhibitions: One of his woodblock reduction prints was selected for the 17th National Printmaking Exhibition in 2005.
Education and Training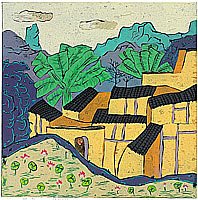 copyright Gong Shaoshen
Gong Shaoshen was born in Qujing of Yunnan province in 1982. Currently he works as a young employed artist at Qujing Printmaking Institute. He graduated from the Fine Arts Department of Qujing Teacher's College in 2006. Gong Shaoshen is a member of Yunnan Fine Arts Artists Association.
In 2005, his reduction woodblock print "Mythology" was selected for the 17th Chinese National Printmaking Exhibition and was collected by the Guizhou Fine Arts Museum.
Style and Technique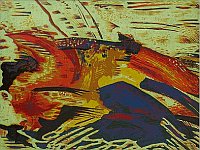 copyright Gong Shaoshen
We received our first prints by this young artist, three altogether, in spring time of 2007. They were all made in the technique of reduction woodblock prints and in oil-based colors - the typical Yunnan Art School woodblock print.
To make an assessment on just three art works would be too daring. And besides, Mr. Gong Shaoshen is at his age entitled and should even feel encouraged to try different styles and techniques. But what we saw is pretty good, solid work. Collectors should keep an eye on this young artist. And his works are still very cheap!
We from artelino want to forward our best wishes and encouragement to Mr. Gong Shaoshen that this will change soon. With his acceptance for the 17th Chinese Printmaking Exhibition this young artist has made an excellent start.
The images on this web site are the property of the artist(s) and or the artelino GmbH and/or a third company or institution. Reproduction, public display and any commercial use of these images, in whole or in part, require the expressed written consent of the artist(s) and/or the artelino GmbH.