Fumio Kitaoka, 1918-2007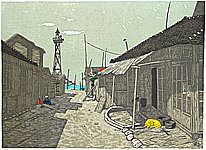 copyright Fumio Kitaoka
Fumio Kitaoka impressively employs versatility and perfection in each technique and stylistic adjustment used in his work. He also skillfully commands the technique of traditional Japanese color woodcuts as well as the western black and white woodcut, realistic presentation, and abstraction. Kitaoka is known worldwide, evident in numerous international exhibitions throughout Asia, Europe and America. The artist died on April 22, 2007 in his native Japan.
International from the First Brushstroke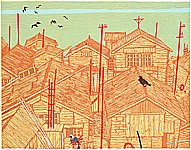 copyright Fumio Kitaoka
Fumio Kitaoka was born in 1918 in Tokyo, Japan and grew up during turbulent times, during which Japan militarily expanded into and occupied China and Manchuria. Tokyo belonged to one of the largest cities in the world (with already over 2 million inhabitants at the time) and was in the meantime transformed according to the western model. The disastrous earthquake of 1923 and the subsequent inferno destroyed large parts of the city. The reconstruction kept the survivors occupied for a long time, from which Tokyo emerged as a giant sprawling metropolis, open to the world.
And so when Fumio Kitaoka began studying at the Academy of Fine Arts in his hometown, he was able to learn not only the traditional Japanese color woodcut but also western oil painting. Takeji Fujishima taught those who learned from his teacher Gyokushu Kawabata, who in turn was a student of Charles Wirman in Tokyo. Also Kitaoka's woodcut teacher, Hiratsuka Unichi, who was a master woodcut maker in Sosaku Hanga, was already focusing on black and white woodcuts, an adaptation of European expressionism.
New Paths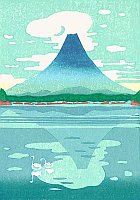 copyright Fumio Kitaoka
Fumio Kitaoka finished studying at the academy in the midst of World War II. Afterwards he traveled to Manchuria as an art teacher. He returned at the end of the war to Tokyo to take night classes under Onchi Koshiro (1891-1955), one of the most influential woodcut artists at the time. Koshiro was interested in modern art and he paved the way to European modernism for Kitaoka.
In 1955 Fumio Kitaoka went to Paris to study western woodcutting techniques at the famous Ecole Nationale des Beaux Arts, the famous French academy of fine art. Here he honed his technical skills and engaged himself with themes of abstraction and individual expression, which made him the leading modern artist in Japan upon his return in 1956 (some sources say 1957).
International Career
The unique style of Fumio Kitaoka quickly brought him fame not only in Japan but abroad as well. The connection between the traditional and the modern brought Japanese art onto the international art scene. In 1964 Kitaoka was invited to the United States to teach at the Minneapolis Museum School of Art and at the Pratt Graphic Arts Center in New York.
Style and Technique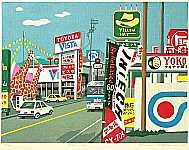 copyright
Fumio Kitaoka remained true to the Japanese school of art despite opening it to international and western schools of art. He enriched his work - when necessary - with western techniques for perception and perspective and also with a moderate level of abstraction and expressive directness, especially in his black and white pieces. He also adopted new ideas in printing techniques. He often used cross grained wood or he elevated the press onto the plate when printing, to create full colored layers for the differentiation of rooms or sculptures but also to give it the feeling of a painting.
Although Kitaoka's black and white German expressionist woodcuts or the sometimes colored cubist or surrealist woodcuts are western in style, when observed up closely, the compositions radiate with Japanese contemplativeness and clarity and often with a certain poetry as well. They create a powerful overall impression that is groundbreaking for Japanese art. In his later works, Fumio Kitaoka returns to creating traditional Japanese woodcuts of Japanese landscapes.
Exhibitions and Distinctions
Fumio Kitaoka's participation in exhibitions is not well documented. It is, however, known that he exhibited works in a series of international Biannuals in Asia, America and Europe. He participated yearly in the CWAJ Exhibition of Printmaking in Tokyo, the most renowned international Japanese art show, well into old age.
There is also only a little information about his distinctions. It is known, however, that he was named as an honorable member to the Japanese Association of Printmakers and also was the director of the Japanese Association of Artists.
Collections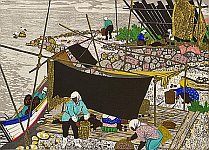 copyright Fumio Kitaoka
His works can be found in several museums and galleries, including in famous collections at:
Museum of Modern Art, New York.
Museum of Fine Arts, Boston.
The Art Institute of Chicago.
National Museum in Warsaw.
Japanese Museum of Israel.
The images on this web site are the property of the artist(s) and or the artelino GmbH and/or a third company or institution. Reproduction, public display and any commercial use of these images, in whole or in part, require the expressed written consent of the artist(s) and/or the artelino GmbH.