Evaluating Japanese Prints
Hiroshige Ando 1797-1858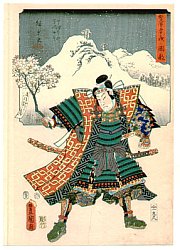 Okabe - Sohitsu Gojusan Tsugi
copyright protected
This article is an essay by Dan McKee. It expresses his personal opinion on aspects of evaluation of Japanese prints. It does not necessarily represent the opinion of artelino.
Define your own Set of Values
The collecting adventure means defining what is valuable for you, by yourself, according to your own set of terms, and not letting market prices dictate your impression of the quality and value of a print. I can think of nothing sadder or more wasteful than a collector who cross-references all of his/her prints with those in gallery catalogues, carefully noting the prices, and receiving a little thrill each time the collection comes out of the safe for the value it represents - as though that value in any way reflected that of the collector!
"This is a thousand dollar print," he will brag to a visiting friend, "and this one, there's only one of these in the world." And what a shame that this single impression is wasted on someone who can hardly see it, who looks at it only as a one-of-kind, three thousand dollar price tag!
Value or Price Tag?
Shunsho Katsukawa 1726-1792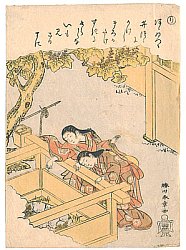 Girls at Well - The Tale of Ise
copyright protected
If it is dollar symbols, yen signs or Euro marks that you see when you look at a print, you are not seeing the print. Far more noble is the beginning collector who lies about admiring a book page, enthralled with its lines and design, who senses here some great value and is not yet aware that book pages are disregarded by the market.
How will she react when she discovers this? Will she doubt herself, her aesthetic sense and judgement, or marvel that the market could turn such a blind eye to the glories of book prints? Will she reject them, or excitedly continue to pick up inexpensive book plates, with all the aesthetic value of single sheets at a fraction of the price?
About Single Book Pages
These are decisions we all must make. Personally, as a lover of the Japanese book, I cannot tolerate book plates, though I recognize that there is great beauty in them. A hand is beautiful attached to the body, but dismembered, it invokes only disgust. In this case, the initial appreciation of the book print is not a pure matter of self-defined values, but includes a certain ignorance on which these values are founded.
At some point, the collector comes to realize that book prints, however beautiful, are but fragments of an original work. And she becomes aware of the politics of her decisions, that she is in fact supporting the destruction of an art form with her purchases from those who break up books. Like an ivory collector, she will have to consider the implications of her actions.
Happily, in this case, the rejection of the book print will not mean the end of her collecting but rather a more refined approach, to reassess her understanding of art, and to gain the confidence to purchase the full books themselves. Ultimately, her appreciation of the single plates will be only enhanced by seeing them in their original context, in connection with the other plates of the work, in their colorful, embossed covers and with their surrounding text.
Which Concessions are Acceptable?
Eizan Kikugawa 1787-1867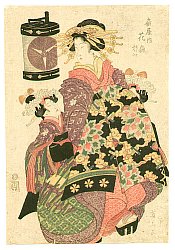 Courtesan Hana-ogi
copyright protected
The same kinds of decisions hold for other aspects of the tension between market value and personal value. What kind of damage on a print are we willing to accept?
The market says none. A nick in the margin is a reduction in value, a backing, a repair, some worming - the mercury is falling.
There are those collectors who feel profoundly that the mint condition print is the only one worth collecting, and who look down on collectors who settle for impressions inferior in any way. These collectors - often comprised of those who set the market values, dealers - typically define being a truly discriminating collector as one who knows, better than others, how to recognize the slightest fading, trimming or block wear, and to reject these impressions as unacceptable.
"Always buy a print in the best possible impression and condition available" is the somewhat intimidating advice found in older books on ukiyo-e that touch on the collector (Stewart). Personally, though I acknowledge the general truth of this formulation, I am always a little perturbed when I find beginning collectors adopting it uncritically, as though it were a hard and fast rule for collecting anything at all.
I worry that some of them may even be turned away from the collecting of ukiyo-e, which is after all, a form in which almost all of its common world products have handling and wear of some sort. For the collection of ukiyo-e, setting the standard of condition acceptable for you is far more realistic than seeking the perfect specimen.
Don't Get Condition Obsessed!
Kuniyoshi Utagawa 1797-1861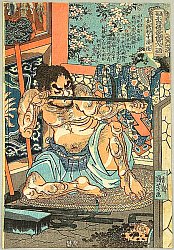 Blacksmith Toryo
copyright protected
Condition is the clarity of the lens through which we view the works of the past, and accordingly, if the lens is dirty, foggy, warped or cracked, the view will be distorted. We should not let "originality" mislead us here into the purchase of inferior works. No matter how beautiful a work may once have been, if it is faded to a uniform brown, badly stained, or otherwise defaced, it is but a souvenir of the "original", whatever the label may say.
Nevertheless, in the case of less serious damage, I find that a bit of projection, adjustment and imagination can overcome small flaws in the lens, and at times can even - strange as this may sound - allow one to enter more personally into the print. A tear with no loss becomes a fine line on the paper that does not greatly disturb the view and can usually, unless it directly affects the subject of the print, be overlooked.
A torn corner of plain paper repaired with matching paper from the same period does not change much about the printed design, nor does margin trimming disturb the view in any major way. I can even ignore a few wormholes, if not many, and not in a central place of the design.
The perfectionists may well shudder here, but I marvel that even damage extraneous to the lens like a benign (non-acidic) backing could so alter the perceived value of a print on the market. Considering that resources are limited for most of us, wouldn't we rather have a beautiful print with a pin hole, a corner tear and a period backing than a perfect specimen of a rather formulaic actor design?
But be Discriminatory with Impression Quality
Hiroshige II Utagawa 1829-1869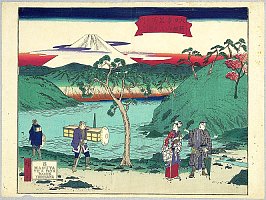 Mt. Fuji and Tea Box
copyright protected
On the other hand, impression problems, in my opinion, are not mere scratches on the lens with which we view the past, but rather a blurring of the original subject, that thus cannot be seen beyond. A line on a crisp, sharply focused photograph can be overlooked, but if the image is out of synch and clarity to begin with, condition itself becomes meaningless.
The impressions of ukiyo-e usually do not get so bad that the subjects are drained of all attractive qualities - though there are certainly exceptions. But if impressions can be graded as early, moderate and late, in my opinion late impressions are by all means to be avoided whenever possible. An early impression is truly a work of wonder, with crisp, dark lines and perfectly registered colors, often including some special printing effects.
For those used to mediocre impressions, which constitute the vast majority of the prints on the market, the sight of a truly early impression will seem like a revelation. On the other hand, you will know a late impression quite well when you see one. The effect will be slap-dash, with poor application of colors, off-center registration, fuzzy or broken lines, blurry and thus meaningless details, and sometimes even a cheaper grade of paper.
Of course there is a spectrum of impression quality within each of these general categories, and sometimes printing flaws appear even in fairly early impressions. As with condition, collectors will have to decide for themselves just where to draw the line, according to the nature of what they wish to create with their collections.
Historical or Aesthetic Reasons
Kunitomi Utagawa fl. ca. 1804-44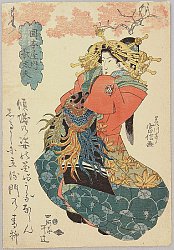 Beauty Nagatayu
copyright protected
In sum, discrimination for me means not the obsessive recognition of minor wear and damage, but rather knowing exactly why you are collecting, and determining, with that goal in mind, what kinds of works are acceptable for you.
There is a major distinction to be made here between those who collect for primarily aesthetic reasons, for the sheer beauty of the prints, and those who collect for primarily historical reasons, to explore and connect with the past in a meaningful way. The question is not an either/or, but rather all collectors must set the levels of these values for themselves, and the condition/impression question will largely resolve according to how these values are determined.
It is possible that one value may be very low, the other high, as in the case of a collector of prints with clocks who will happily welcome an inferior impression of a fascinating design in order to enhance the variety of information his collection presents.
The condition-obsessed collector represents the opposite extreme of the spectrum, in which the aesthetic qualities of the print as it is outweighs considerations for what the print was, what it means in relation to its time. In-between, there is a wide variety of positions that can be taken, and these are not necessarily coherent in one collection or with one collector.
For example, a collector may only want the very best condition prints by Kunisada, as these are still fairly available, but have a less exacting standard for the works of Shunsho, which are rare and expensive in fine impressions. He may even accept a faded print by Kunisada of a spectacular design, one that he has never seen before and is uncertain if he will encounter again.
These are examples of the cultural and historical value of a piece outweighing purely aesthetic considerations, thus allowing certain flaws to become acceptable.
A Split Collection
Kuniyoshi Utagawa 1797-1861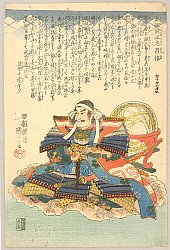 General and Astrologist Masanobu
copyright protected
In my case, I have developed a split within my own collection between what I think of as my A, or "real" collection, and my B, or "study" collection.
Certain works, I find, are fascinating to me as rare examples of a certain genre or style, and worthy of collection even if their condition and impression are not up to my standard. In contrast to the "A" works, however, which I hope to keep with me for the remainder of my days, the "B" group is entirely dispensable. In a sense these "B" works are place holders, waiting my discovery of a better example that serves the same purpose in the general lay of the collection.
Becoming more Selective over Time
More and more, however, I am questioning the purpose of keeping a "B" collection at all, for interesting as these prints are viewed in comparison with themselves, they pale in interest beside the "A" pieces. Certainly, when I am making a purchase for my collection, I consider whether it would fit it in with, and be a meaningful addition to the "A" pieces, and if not, but the design still interests me, whether it is inexpensive enough to merit purchase for the "B" group.
But why waste the funds that could be spent on one spectacular print for two or three or even four mediocre ones? Perhaps this is a question that every collector comes to eventually, when a sizable number of prints have been gathered. Once the goal of representational comprehensiveness has been to some extent attained, the new goals are refinement and specialization, quality, not quantity.
These are issues that come up repeatedly in the management of a collection, and each time, the standards for what is acceptable seem to rise to a higher plane, along with the quality of the collection.
How to Deal with the Market
Kunichika Toyohara 1835-1900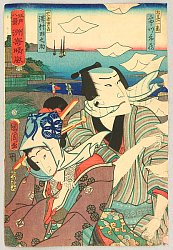 Gust of Wind - Eight Views of Edo
copyright protected
For collectors with limited funds, which is most of us, the question is how to work with the market in order to acquire quality pieces that will be satisfying to us, and not batter our budgets too severely. As I have previously mentioned, purchasing prints just because they are cheap is a certain recipe for ultimate disappointment, though it is the way that most collectors begin, and often a necessary step for them to learn to do otherwise.
For it is difficult to make a major investment, to put a large part of one's available funds into a print until one is certain that this is the kind of piece one will want to keep for a lifetime - and that decision comes only by experiencing many prints. Moreover, among the low-priced prints, there are points of oversight, gaps or niches, in which wonderful designs and fascinating works can be had for very little output.
Having discussed what it means to be a collector, to engage with prints and define one's self and ones predilections and view of the art form thereby, I will in the next essays examine a number of the niches that I see remaining in the market today. These are areas in which the wise collector can find works of incredible brilliance and aesthetic excellence, to which the market prices in many cases have not yet caught up.
Dan McKee
The images on this web site are the property of the artist(s) and or the artelino GmbH and/or a third company or institution. Reproduction, public display and any commercial use of these images, in whole or in part, require the expressed written consent of the artist(s) and/or the artelino GmbH.