Edutainment >

Currawongs, Lord Howe Island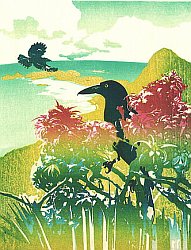 copyright Tom Kristensen
Tom Kristensen, born 1962, is a young artist from Australia who works in the tradition of Japanese woodblock printmaking. On this page, he writes about his latest print: "Currawongs, Lord Howe Island".
Here is the original text written by Tom Kristensen. Text and images are copyright protected and may not be used or distributed for other than private use without the prior consignment of the author/artist.
Currawongs, Lord Howe Island
Lord Howe Island, a jagged remnant of volcanic rock, lies in the Tasman Sea 600 km from mainland Australia. The crescent shaped island is covered in lush vegetation rolling down to rocky coast and sandy beaches. At one end of the island two steep peaks rise from a forest of endemic Kentia palms. Where the mountainside disappears into the clouds the tall palms give way to shorter curly cousins. Ferns and mosses cushion the mountaintop in a mist forest of stunted trees. Mount Gower at 875 metres can be climbed in a day with the help of a local guide. The view takes in the length of the island with Mount Lidgbird adjacent and the coral fringed lagoon below.
There are 18 species of landbirds breeding on the island, including the Lord Howe Island Currawong, Strepera graculina crissalis. The currawong is a large inquisitive bird, following the progress of visitors to the mountain, hopping along the path and swooping through the branches. In this view a currawong has settled among the drooping leaves of Dracophyllum fitzgeraldii. This small tree is restricted to the high slopes of the mountains and is one of 100 species of flowering plants unique to Lord Howe Island.
The spectacular geography and the rich diversity of endemic flora and fauna have Lord Howe Island listed by UNESCO as an area of World Heritage significance.
I have prepared a series of photographs illustrating the printing process at www.tom-kristensen.com.
Tom Kristensen
December 2006
The artist was first discovered by Eric van den Ing, co-author of a classic ukiyo-e book "Beauty and Violence" and owner of Saru Gallery. After Eric van den Ing had placed Tom's woodblock prints on his online gallery, a few days later a collector had bought the whole set. Mr. van den Ing seems to have a "magic hand" for new artists. He was the first, and before artelino, to introduce Paul Binnie in 2000 to a larger online community of friends of Japanese prints.
The images on this web site are the property of the artist(s) and or the artelino GmbH and/or a third company or institution. Reproduction, public display and any commercial use of these images, in whole or in part, require the expressed written consent of the artist(s) and/or the artelino GmbH.