Edutainment >

Collecting Historical Maps - Part Two
Gerard Mercator 1512-1594
The best known name in map making is Gerard (or Gerardius) Mercator. His original name was Gerhard Kremer.
Mercator had studied geography, cartography and mathematics at the University of Louvain in Belgium. He published his first map in 1537. Later he invented and introduced today's way of displaying a map with 90 degree parallel lines for the latitudes and meridians.
Mercator's main work, an atlas, was published in several editions from 1585 on and beyond his death in 1594. In 1604 another famous cartographer named Hondius had acquired Mercator's original plates and published several more editions. The subsequent generation of mapmakers more or less copied from Mercator's world atlas.
In England, Christopher Saxton and John Speed were the best-known mapmakers.
In the sixteenth century, mapmaking was a booming business - some kind of high tech or new economy business. And it was a business across borders. Mapmakers tried to cater for an international market. The maps and atlases were published primarily in Latin. If the first edition of an atlas turned out to be a success, editions in different languages soon followed.
Later Maps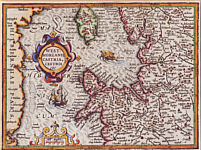 Mapmaking in the seventeenth and eighteenth century was marked by high accuracy. In many countries, detailed geographic measurements were undertaken. Inaccuracies were restricted to remote areas that were not yet fully explored. A funny example is California. Until around 1740 it was believed to be an island instead of a peninsula.
In the seventeenth and eighteenth century, Dutch, German and French mapmakers dominated the scene. Well known names are William Blaeu, Hondius, Homann, Jannson, Matthias Seutter, Robert de Vaugondy.
With the invention of lithography by Alois Senefelder in 1798 the need for hand coloring was replaced by color printing.
Collector's Value of Old Maps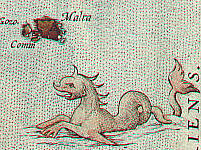 The value of an old map follows the simple rules of supply and demand. And these rules are not always purely rational.
The same map in excellent condition could have a market price five times higher than one in only fair condition.
The older a map is, the more valuable it is.
Quite a few collectors concentrate on the region, country or continent where they live. Therefore maps showing countries with a low level of income are lower in demand and thus cheaper. Maps of North America were produced in lesser quantities than European maps, but have a large collector's community.
Maps with nice decorations like sea monsters, sailing ships or a lavishly painted cartouche are more sought after.
Large sized maps are more in demand than smaller ones.
Early maps were printed in black and white. Some were colored by hand. When the coloring was added later, the technical term colored is used for the description of a map or print. Original colored means that they were colored by hand when they were produced. Original colored maps are more valuable than colored ones. And colored maps are more valuable than plain black and white ones.
Inaccurate and all kind of "unusual" maps are more in demand. The best example are maps showing California as an island.
Back to Collecting old maps part one.
The images on this web site are the property of the artist(s) and or the artelino GmbH and/or a third company or institution. Reproduction, public display and any commercial use of these images, in whole or in part, require the expressed written consent of the artist(s) and/or the artelino GmbH.