Edutainment >

Cheng Hsu - born 1959

Cheng Hsu, born 1959 - I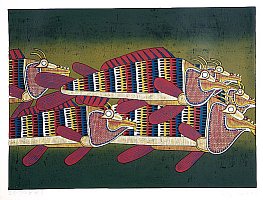 Fish Shape No. 1
copyright Cheng Hsu
"Art is felt, not understood."
(Cheng Hsu)
The artistic importance of Cheng Hsu for the development of modern Chinese printmaking is enormous. He applied the technique of the reduction woodblock print in the early 1980s in Yunnan, the southwest Chinese province. Unfortunately, the artist was forced to retire from printmaking due to a severe illness. The availability of his oeuvre in the art market is therefore limited and prints by Cheng Hsu are rare.
First Publication: July 2004
Cheng Hsu - Resume
Cheng Hsu, born 1959 - II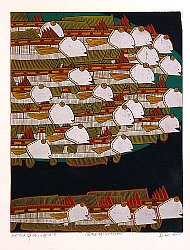 Fish Shoal No. 4a
copyright Cheng Hsu
Cheng Hsu was born in Yunnan in 1959. In 1982 he graduated from the Department of Graphic Arts of Yunnan Art College. In the early 1980s, while he was still at Yunnan Art College, first as a student and later as a teacher, he began to apply the reduction woodblock prints. It is a revolutionary new way of creating multicolor woodblock prints from only one block, instead of using one block for each color. The reduction woodblock technique has the great advantage for art collectors that there is no means of making more copies from the original blocks after the first edition was printed. The block is physically destroyed during the creation process - reduced to nothing, you may say.
Associations
Cheng Hsu is member of the Chinese Artists Association and of Chinese Graphic Artists Association.
Cheng Hsu about the Fish Series
Cheng Hsu, born 1959 - III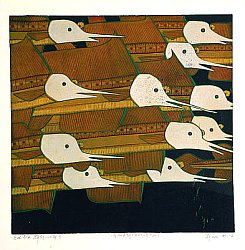 Fish Shoal No. 5
copyright Cheng Hsu
When Cheng Hsu received his first prize at the 6th National Fine Art Exhibition of China in 1984, he was only 25 years old. The prize and the art work, for which it was awarded, was a small sensation at that time, when "social realism" was still the dominating art style. The young artist remained on his path as a non-conformist. When modern, bold art forms were generally accepted in a more relaxed Chinese art scene, Cheng made a step back into the past by starting his fish series.
"The past is beckoning me - today and yesterday. I feel very close and I am not able to resist." (Cheng Hsu)
Zhang Ji, a teacher of China Academy of Fine Arts and Master of Art History, wrote about Cheng's fish prints:
"The images are the funniest, playful ideas. They utilize the energy and wild power of a bygone barbarian age, and the unpredictable fear of the universe."
"Chung Hsu's depiction of a fish, to all intents and purposes, is unprecedented. He has "Vegetable Fish", "Column Fish" and "Group Unified Fish". All of these subjects are attempting to express the same thing, the deep beauty of the fish's shape."
Exhibitions and Awards
Cheng Hsu, born 1959 - IV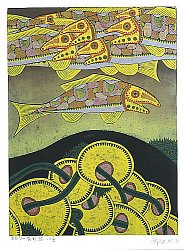 Fish and Plants
copyright Cheng Hsu
1984 - Gold Award for the print "La-Ku Romantic Feelings" at the 6th National Fine Art Exhibition of China.
1985 - Prominent Work Award for the print "Ancient Dance" at the 9th National Print Exhibition of China.
1985 - The print "La-Ku Romantic Feelings" collected by China Fine Art Museum and Kiangsu Fine Art Museum.
1985 - The print "Market Day" was awarded with a prize by "Print World".
1985 - The print "Rain Passing the Mountains" was included in the book "Print Art".
1999 - Print works were exhibited in Japan, Korea, Australia, Holland, Hong Kong and in Taiwan.
1989 - Solo exhibition at the Central Academy of Fine Art in Beijing.
1994 - Solo exhibition at Yunan Fine Art College.
1996 - The print "Vegetable and Fish" was collected by Lu Hsun Fine Art Museum.
1997 - The print "Ivy Shaped Fish No. 1" was collected by Kiangsu Fine Art Museum.
1998 - The print "Fish Shoal No. 1" was exhibited at the 14th National Print Exhibition, and collected by Shenchou Print Museum.
1998 - The book "Woodcut, Carving and Printing Several Times on the Same Woodplate" by Cheng Hsu, was published.
Statements by Cheng Hsu
Cheng Hsu, born 1959 - V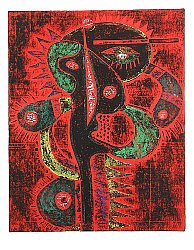 Person Shape No. 2
copyright Cheng Hsu
Cheng Hsu gave several comments about some of his more famous designs. They are kept in a rather flowery language, and the translations - no matter how good they are - leave some question marks among Western readers. But they are a clue to the understanding of the artist's very involved, expressive and personal approach to his own art creations.
About his Fish Prints
"Lonesome and wordless fish moving around in deep water all day long, with its significance as a species almost forgotten by the history of civilization. Suddenly, as it comes unexpected into vision, it reappears with cool beauty, blind prosperity, silent solemnity. The mystery of an age from the past covers each part of your thought."
"The painter and the distant fish crowd attain a taciturn understanding. The bright and fresh colors seen on the dark, black bottom under water, seem to have been created by freezing. The mode of life is analyzed through geometric diagrams. Non-organic, physical structures form a new, abstract order."
About his "Person" Images in Dominant Red Colors
"That is a land baked by the hot sun and by camping fires. That land should be provided with a solid race and haunted by a naive, yet lovely spirit. This race was discovered by the painter at their spiritual meetings, in an ancient period and space. They seem to be characters laid by several stones, in a puppet-like model, that expresses the perception of the painter about primitive humanity and indulgence in primitive tradition."
"The purity of two colors in red and black yields an effect like prehistoric rock paintings. The naive sense of children, the boldness of a primitive style through exaggeration of formality, forms a wild vigor."
(edited and shortened by artelino)
Forced Retirement
Cheng Hsu, born 1959 - VI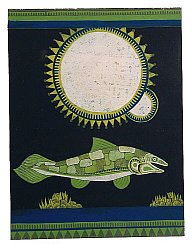 Fish Shape without Red
copyright Cheng Hsu
It is sad, but Cheng Hsu cannot create woodblock prints any more. He has some kind of a cerebral disease that causes problems in coordinating movements. We do not have more than a literal translation of the Chinese name for this disease and do not want to make any speculation. We received information that he sometimes uses the Internet to follow news in arts.
We hope Cheng Hsu is doing fine under the given circumstances and are wishing him the very best. The information we have about the artist's career at the time being is not much. But if he was really the first in the early 1980s to develop the technique of the woodblock reduction prints, he will for ever be remembered by future generations as a great innovator of Chinese printmaking. And judging solely from his art works, his place in Chinese art history is on the pinnacle - and nowhere else. There is no doubt about it.

Author: Dieter Wanczura
.. more about Dieter Wanczura
The images on this web site are the property of the artist(s) and or the artelino GmbH and/or a third company or institution. Reproduction, public display and any commercial use of these images, in whole or in part, require the expressed written consent of the artist(s) and/or the artelino GmbH.