Edutainment >

Booming Chinese Art Market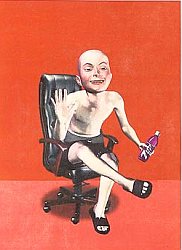 by Zhou Lu, born 1973
copyright Zhou Lu
It was something to be expected a few years ago. In the wake of the booming Chinese economy, the Chinese art market would take off sooner or later. But when it happened in 2006, the dimensions and the focus on contemporary Chinese art surprised many.
First Publication: February 2007
This page is a wrap-up and excerpt from articles published on CNN and The New York Times about the current boom in modern Chinese art. The last paragraph is a short essay of some thoughts that we at artelino have about this development.
The images shown on this page are art prints by leading Chinese printmakers represented by artelino. For copyright reasons we do not show any art works by the painters and artists mentioned in this article.

Author: Dieter Wanczura
.. more about Dieter Wanczura
(in February of 2007)
CNN on the Chinese Market of Contemporary Art
Life - Gone with the Wind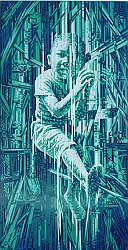 by Luo Guirong, born 1962
copyright Luo Guirong
CNN has an in-depth special by Cathryn Meurer under the headline Move over Mao: Do China's Artists Serve a New Master?. The CNN report reports quite critical about the current boom in contemporary Chinese art. The essay describes the development of modern Chinese art since the opening of China under Deng Xiaoping in the late 1970s.
"Some artists began to address the damage done by the Cultural Revolution, albeit cautiously. The movement was called "scar painting" and "the art of the wounded."
"By the mid-1980s, boldly experimental and political works were being created in several places around China."
Art critic Gao Minglu sees a change from the politically motivated "art of the wounded" to consumerism and leisure after the crack-down on protesters in Tiananmen Square.
"The rapid economic changes of the 1990s gave contemporary artists new themes - the desire to get rich quickly, competitiveness, the widening gap between rich and poor, consumerism, leisure. The collision of capitalist and communist ideologies also led to Political Pop and Cynical Realism styles."
As a most recent development the CNN article spots a trend in traditional art combined with Western art elements.
"Another school of Chinese contemporary art finding commercial success is what Gao describes as "academic art." Art professors lead this official style, which combines classical Chinese techniques with socialist thought and employs Western modern art styles such as impressionism and cubism. Paintings feature landscapes, peasant girls, exotic locations, and little social or political criticism. They've sold for up to $40,000."
The New York Times - The Booming Chinese Art Market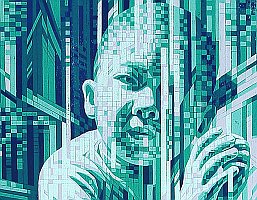 by Luo Guirong, born 1962
copyright Luo Guirong
The New York Times reports in an article dated January 2007 about the recent climax of the contemporary Chinese art market. The article by David Barboza on In China's New Revolution, Art Greets Capitalism is rather factual and lists some recent record prices achieved at auctions in China and Hong Kong and mentions some of the best-known top money-maker artists like Zhang Xiaogang, Fang Lijun, Yue Minjun, Zeng Fanzhi, Wang Guangyi, Zeng Hao.
"In 2006 Sotheby's and Christie's, the world's biggest auction houses, sold $190 million worth of Asian contemporary art, most of it Chinese, in a series of record-breaking auctions in New York, London and Hong Kong. In 2004 the two houses combined sold $22 million in Asian contemporary art."
The New York Times continues with the latest auction record in contemporary Chinese art:
"The climax came at a Beijing auction in November when a painting by Liu Xiaodong, 43, sold to a Chinese entrepreneur for $2.7 million, the highest price ever paid for a piece by a Chinese artist who began working after 1979, when loosened economic restrictions spurred a resurgence in contemporary art."
"That price put Mr. Liu in the company of the few living artists, including Damien Hirst and Jeff Koons, whose work has sold for $2 million or more at auction."
The Faraway Sparrow Sounds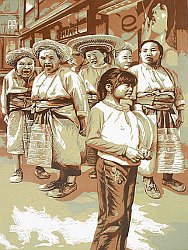 by Wen Mujiang born 1970
copyright Wen Mujiang
The current boom shows all typical signs of an over-heated hype and bubble:
"With auction prices soaring, hundreds of new studios, galleries and private art museums are opening in big cities like Beijing and Shanghai. Chinese auction houses that once specialized in traditional ink paintings are now putting contemporary experimental artworks on the block."
"Western galleries, especially in Europe, are rushing to sign up unknown painters; artists a year out of college are selling photographic works for as much as $10,000 each; well-known painters have yearlong waiting lists; and the Solomon R. Guggenheim Museum and the Pompidou Center in Paris are considering opening branches in China."
The article continues with a few examples how the boom in contemporary Chinese art has changed the life style of some of the top artists.
"That has all changed. These days China's leading avant-garde artists have morphed into multi-millionaires who show up at exhibitions wearing Gucci and Ferragamo."
"Wang Guangyi, best-known for his Great Criticism series of Cultural Revolution-style paintings emblazoned with the names of popular Western brands, like Coke, Swatch and Gucci, drives a Jaguar and owns a 10,000-square-foot luxury villa on the outskirts of Beijing."
"Yue Minjun, who makes legions of colorful smiling figures, has a walled-off suburban Beijing compound with an 8,000-square-foot home and studio. Fang Lijun, a "Cynical Realist" painter whose work captures artists' post-Tiananmen disillusionment, owns six restaurants in Beijing and operates a small hotel in western Yunnan province."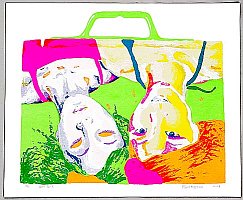 by Xiong Xiqiu born 1979
copyright Xiong Xiqiu
Then the New York Times lists some impressive sales figures about the star among the contemporary Chinese painters, Mr. Zhang Xiaogang, 48.
"If China's art scene can be likened to a booming stock market, Zhang Xiaogang, 48, is its Google. More than any other Chinese artist Mr. Zhang, with his huge paintings depicting family photographs taken during the Cultural Revolution, has captured the imagination of international collectors. Prices for his work have skyrocketed at auction over the last two years."
"When his work "Bloodline Series: Comrade No. 120" sold for $979,000 at Sotheby's auction in March, many art insiders predicted the market had topped out and prices would plummet within months."
"But in October, the British collector Charles Saatchi bought another of Mr. Zhang's pieces at Christie's in London for $1.5 million. Then in November at Christie's Hong Kong auction, Mr. Zhang's 1993 "Tiananmen Square" sold to a private collector for $2.3 million.
Towards the end of the NYT article the author asks the critical question if such prices are justified or are just a huge bubble that will collapse sooner or later. Two experts are cited. One is Uli Sigg, the former Swiss ambassador to China whose large collection of contemporary Chinese art has recently been shown in important exhibitions in Zürich and Hamburg. The other expert is Mr. Michael Goedhuis, a collector and art dealer with galleries in London and New York. Both experts don't see an end to the current boom. Mr. Goedhuis is cited with an interesting statement:
Learning Chinese Gongfu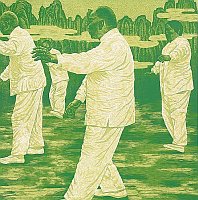 by Su Yansheng born 1961
copyright Su Yansheng
"I don't think there's a bubble. There's a lot of speculation but no bubble. That's the paradox. In China there are only a handful of buyers - 10, 20, 30 - out of a billion people. You only need another 10 to come in and that will jack up prices."
Towards the end of the article, some critical voices and some rather disturbing observations are mentioned. One is Christopher Phillips, a curator at the International Center of Photography in New York. He told the NYT:
"I went to visit the studio of a well-known Beijing painter. The artist wasn't there, but I saw a group of canvases being painted by a team of young women who seemed to be just in from the countryside. I found it a little disconcerting."
The New York Times article adds another statement without citing a source:
"And many experts here say that some gallery officials and artists are sending representatives to the auctions to bid on their own works to prop up prices, or "protect" the prices of some rising stars."
The article finishes with a positive comment about the contemporary Chinese art market by Lorenz Helbling, director of the ShanghART Gallery:
"Things are much better than they were 10 years ago. Back then many artists were commissioned to simply paint dozens of paintings for a gallery owner, who went out and sold those works. Now these artists are thinking more deeply about their work because they're finally getting the recognition they deserve."
Our Comment
Belief Road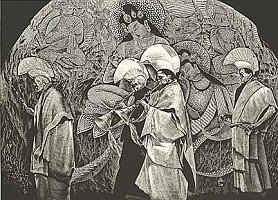 Yang Yongsheng born 1967
copyright Yang Yongsheng
We at artelino have been a pioneer in selling modern Chinese art prints by leading contemporary Chinese printmakers since spring of 2003. Since then we have been fascinated by the artistic quality, the huge variety and diversity of stunning works on paper made by Chinese artists after the end of the Cultural Revolution.
Although we have recently begun to offer paintings by Chinese artists, we are basically not in the market of paintings, sculptures or other modern media. This is still a domain for real-world galleries and the large real-world auction houses like Sotheby's and Christie's and some new names in China.
We are watching the current boom in contemporary Chinese art closely. And we are wondering what kind of impact it will have on the market for modern Chinese art prints. Art prints are a typical mass market, and a market for the middle class. China has not had a developed print market in the past. Chinese art prints are currently sold to Western collectors and art friends - in Northern America, Europe, Australia and high-income countries in Asia like Singapore or Hong Kong.
The current boom in contemporary Chinese art bears in our view all signs of a bubble. Large collectors who bought Chinese art a few years ago for "an apple and an egg" and art dealers active in the current Chinese art market, will of course not speak of a bubble. Their statements influence the market, and they would be idiots to predict a soon collapse or admit exaggerations.
The world economy - and not only China - has been booming since the beginning of Bill Clinton's first term in office. Historically a long-lasting and stable world economy has always been accompanied by a booming art market. And when you look back a booming art market has always been followed by a slump.
by Li Yanpeng born 1958
copyright Li Yanpeng
The quality and creativity of many of the Chinese art objects created after the end of the Cultural Revolution - but in our view also during the reign of Mao Zedong - is simply excellent. Modern Chinese art will not disappear in the future. However we have the feeling that those works that will be appreciated in the long run, are not necessarily identical with the works that are currently so trendy. The art works now in focus are only a small percentage of those worth collecting. This is a consequence of the current gold rush symptoms of the Chinese art market
For instance the concentration on the Bejing area as the current "center" of the Chinese art market has in our view a rather practical explanation. Western art dealers who now fall into China like a swarm of grasshoppers, and who do not speak Chinese, will seldom take the effort and the time to visit remote provinces like Yunnan in the South-East or Heilongjiang in the North-East. It is more convenient to drive to "798", a formerly deserted factory estate in the North-East of Bejing, where a few young artists established the first studios five years ago. Today "798" is a buzzing, commercialized, kind of "art mall".
The long-term development of the Chinese art market in and outside of China depends on the further economic and social development in China, on the state of the world economy and - very important - on the activities of the large Western museums like the MoMa, the Met, the Guggenheim, the Pompidou Center. Their exhibition activities and their budgets to purchase contemporary Chinese art will have a very important influence on the market. And it is to be hoped and expected that the curators of the great Western museums, in close cooperation with Chinese museums and Chinese art academies will sort out the goodies from the hype.

Author: Dieter Wanczura
.. more about Dieter Wanczura
The images on this web site are the property of the artist(s) and or the artelino GmbH and/or a third company or institution. Reproduction, public display and any commercial use of these images, in whole or in part, require the expressed written consent of the artist(s) and/or the artelino GmbH.