artelino = auctions + contents
Hi - You are visiting what is to our knowledge the largest website for contents around Japanese prints. More than 50,000 persons visit us every month. That's nice. But qualified contents needs your regular purchases in our auctions.
If you use and appreciate our services, please bid and buy in our auctions. We accommodate regular clients from the U.S.A. and other countries outside Europe with our free shipment options and good service. Join us and become a regular customer of artelino auctions.
Thank you - Dieter Wanczura
Artists in Archive
Shokei Yamada fl.ca. 1890s - Golden Pavilion
Enlarge Image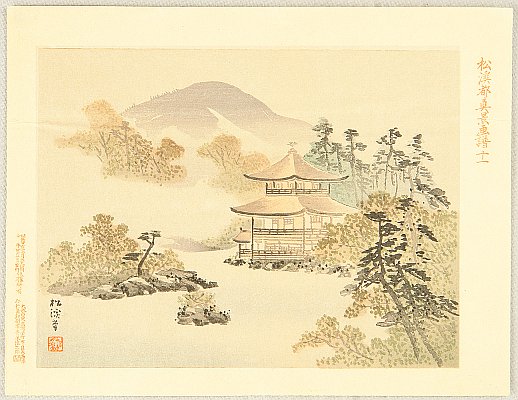 Golden Pavilion
Shokei Yamada fl.ca. 1890s
Item

44693

Please enter search string(s) and/or select and click on GO.
| | |
| --- | --- |
| Reserve | To see prices, please first log to My Account. New users, please register for free. |
| Highest Bid | To see prices, please first log to My Account. New users, please register for free. |
| Date Sold | Sunday, July 4, 2010 |
| | |
| --- | --- |
| Title | Golden Pavilion |
| Artist | Shokei Yamada fl.ca. 1890s |
| Description | "Shokei Miyako Shinkei Gafu" (Pictures of Kyoto by Shokei). Golden pavilion. |
| Signature | Shokei. |
| Seal | Artist's seal. |
| Dated | 1894. |
| Medium/Technique | Woodblock print. |
| Impression | Very good. |
| Colors | Very good. |
| Condition | Good ... Light toning. Thin areas on the margins. Creases around the middle. |
| Width Item | 10.7 inches = 27.2 cm |
| Height Item | 8.3 inches = 21.0 cm |