☰
artelino
Auction MODERN JAPANESE PRINTS - 1439 - ending in 2 days, 2 hours, 51 minutes and 27 seconds.
Auctions of Japanese and Chinese Art Prints
Modern Japanese Prints - 1439 - open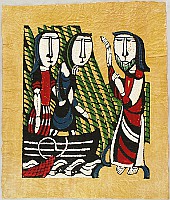 The period of art printmaking in Japan after the Pacific war is characterized by an opening towards the rest of the world. In this the Japanese artists were pretty successful and soon dominated international print exhibitions. And although Western printmaking techniques like etching, mezzotint or silkscreen printing were now used by Japan's young artist generation, the majority still works in the traditional woodblock printmaking technique that has made Japanese arts famous all over the world.

Featured Items:
• Item # 67440 - Tadashige Ono 1909-1990

If you are the winner for one of these featured items you pay no commission on your final invoice - including all your other wins at auction end.

Featured Artists:
Masayuki Miyata, Shigeru Hatsuyama, Tadashige Ono, Sadao Watanabe, Roko Hirayama, Clifton Karhu, Toshi Yoshida, Tomoyo Jinbo, and others.
Design Changes to This Web Site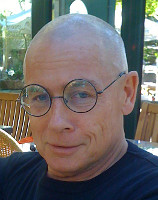 Dear friends of artelino

More and more people - and mainly young people - no longer use a desktop PC, but smartphones or tablets. In the past artelino has not necessarily followed fashion trends in web design. But now it is time for a change.

I have started a process to change the design of the artelino web site in a way that it is well useable on all devices - desktop PCs. tablets and smartphones.

This process will go over several months. At the moment maybe 10% of the project are accomplished.

I know that some of our regular and faithful clients do not like changes. I try to make it as smooth as possible. The artelino web site will become better and easier to use than ever.

Dieter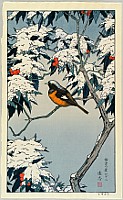 Toshi Yoshida was the eldest son of Hiroshi Yoshida. Like his father he undertook extensive travels all over the world. His trips took him to the U.S.A., Canada, India, Africa, Australia and even to the Antarctica. Most of his print subjects are focused on landscapes or animals depicted in a realistic style. After the death of his father Hiroshi Yoshida, he even experimented in abstract art for a while but returned to realistic landscape prints.